Attention!
Sally Borden Fitness and Recreation will be closed until further notice for preventative measures.
We will provide updates on reopening and memberships as this situation evolves.
Thank you everyone and stay healthy.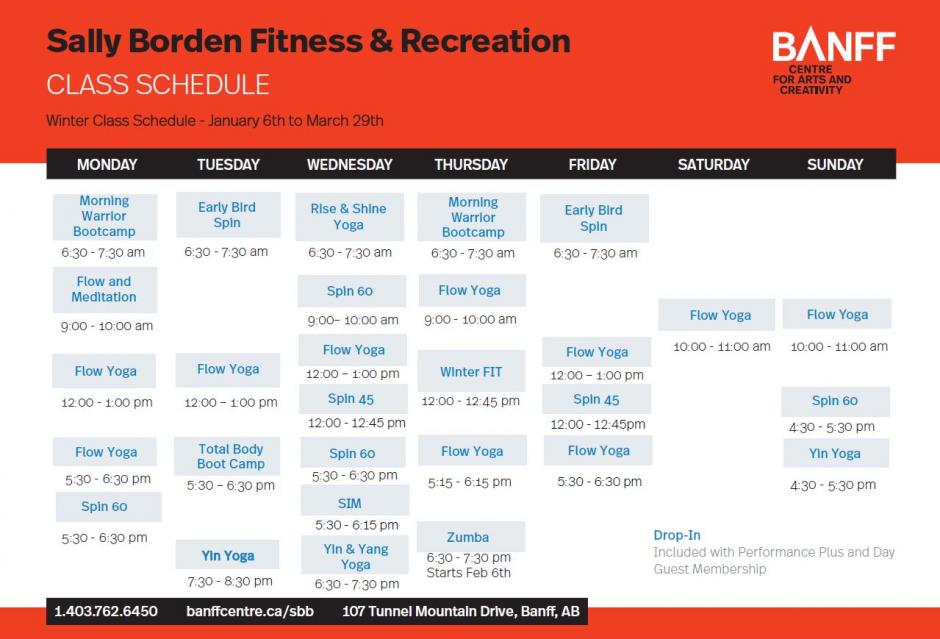 Fitness Classes
SIM - STRENGTH, INTERVALS, MOBILITY
Love the powerful feeling of lifting weights? This workout focuses on strength, with a strong emphasis on form, posture and mobility. Movements are intentionally performed at a very controlled / slower pace to increase the challenge of your muscular system. Mobility exercises are incorporated during warm-ups, active rest periods and stretching to maintain a healthy range of motion in muscles, joints, and tendons. It's a perfect marriage between strength and mobility for everyday life and your independence. Check it out - nothing to lose - lots to gain!
This class is designed for all levels of fitness.
BOOT CAMP    
Join this 45 minute class of sweat, strength, and fun! This class includes cardio conditioning, strength work, core and stretching.  An energizing and challenging functional fitness class that is appropriate for all levels.
WOW - WORKOUT OF THE WEEK
Thursday 12:00 - 12:45 pm
Join us at lunch on Thursdays for the unpredictable and exciting workout of the week. Every week is different but perfectly balanced between strength, conditioning, agility, and stability to ensure you are getting a great workout while still preserving proper movements and injury prevention methods!
Yoga Classes
FLOW YOGA
Monday

9:00 - 10:00 am 
12:00 - 1:00 pm
5:30 - 6:30 pm

Tuesday & Wednesday 12:00 - 1:00 pm
Thursday

9:00 - 10:00 am
5:15 - 6:15 pm

​​​​​​​Friday

12:00 pm - 1:00 pm
5:30 - 6:30 pm

​​​​​​​Saturday & Sunday 10:00 - 11:00 am
Enjoy the power of connecting the mind, body, and spirit with Vinyasa Flow Yoga. Improve your flexibility, core strength, balance, and stability through various postures and stretches. This is a dynamic style of yoga where the postures flow from one to the next with emphasis on the breath. This is a mixed level flow class and all ability levels are welcome. We recommend newcomers arrive 10-15 minutes early to speak with the instructor about any concerns they have. Modifications are given for all postures and participants are encouraged to work at their own level.
YIN YOGA
Tuesday 7:30 - 8:30 pm  
Sunday 4:30 - 5:30 pm
The practice of Yin Yoga is often considered "yoga for the joints – not the muscles".  It targets the connective tissues of the body (tendons, fascia, and ligaments) and focuses on creating a release by holding poses for longer periods of time.  Yin Yoga poses are generally more passive and meditative in comparison to flow classes, providing a calming and balancing of the mind while increasing the mobility and flexibility of the body.
Dress warm or bring layers as yin is not as heat generating as flow classes.
YIN and YANG YOGA
Yin and Yang Yoga blends the two styles of yoga into one practice. It provides harmony and balance for both active and passive energy as well as muscular energy and release.  Yin and Yang Yoga is a great opportunity to create inner peace, generate an uplifting sensation, and increase strength.
Rise & Shine Yoga
​​​​​​​Start your day with a mindful morning by stretching your body and awakening you mind.
Spin Classes
Spin 60
Monday & Wednesday 5:30 - 6:30 pm
Wednesday 9:00 - 10:00 am
Sunday 4:30 - 5:30 pm
Sping 45
Wednesday & Friday 12:00 - 12:45 pm
Early Bird Spin
Tuesday & Friday 6:30 - 7:30 am
The great sound and big screen TV will get you in the mood to ride!
The Sally Borden offers a variety of high energy, motivating classes in a non-competitive environment. Our instructors are all passionate and unique and although we embrace their creativity, all spin classes are based on the principles of outdoor cycling. Indoor cycling makes the fitness benefits of riding a bike available to all - we welcome the experienced rider along with novice and encourage all to be the master of their own ride.  We want participants to work at an intensity that is appropriate to meet their training and fitness goals while respecting the body's limits and needs. Join our spin community .... and ride on!
Calendar
Member or Day Guest
*Private Bookings - please call us at 403.762.6450 for the daily pool schedule.
All persons aged 3 years and under are not permitted in the cli mbing gym except during special times.
All persons aged 15 years and unde r must be supervised by an adult when climbing outside of a registered prog ram.
Drop-in Rates:
Adults $15.00
Youth (ages 4-15) $8.00

Parents donot have to pay a drop-in fee if they are the supervising adult belaying achild. Fees apply if they are belaying an adult.
Description:Lifeguard ON Duty. Pool use only rate Available.
Member or Day Guest
*Private Bookings - please call us at 403.762.6450 for the daily pool schedule.
Private Classes
Private Spin Class

Organize your own private spin class. Whether you are looking to meet specialized training needs or just want a class specifically designed for your gang of friends, colleagues or training buddies. Times are based on studio and instructor availability.