Banff Centre for Arts and Creativity commissions new video work by Indigenous artist Nadia Myre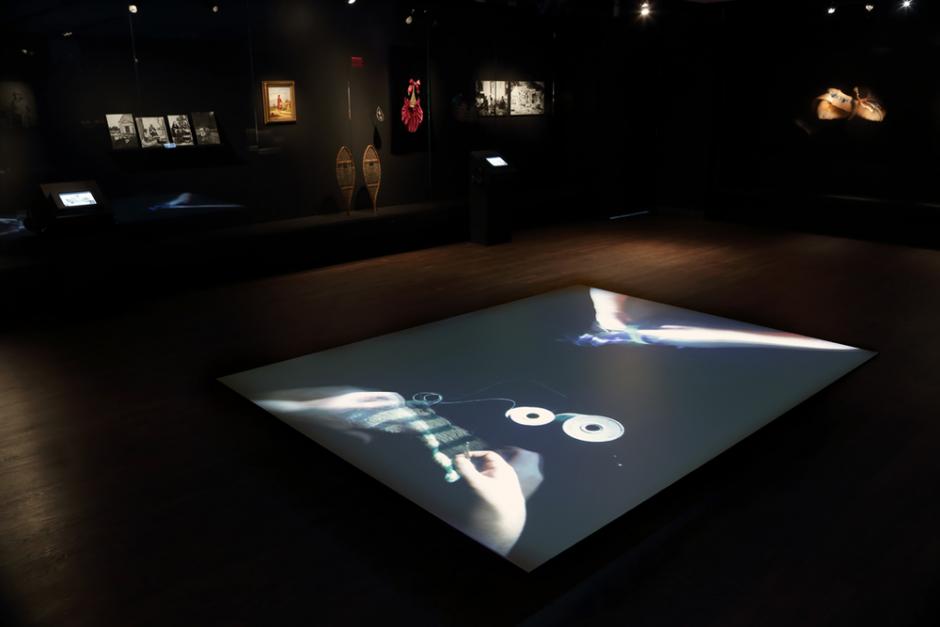 BANFF, AB, July 22, 2016 – Nadia Myre, a visual artist from Québec and an Algonquin member of the Kitigan Zibi Anishinabeg First Nation, is the inaugural recipient of the Walter Phillips Gallery Indigenous Commission Award at Banff Centre for Arts and Creativity. Myre will receive an award of $20,000 to support the creation of a new work. 
"I am thrilled to receive the Banff Centre's first Walter Phillips Gallery Indigenous Commission Award, and value the Centre's continued endeavours to create a space of encounter, exchange, and dialogue for Indigenous artists – both nationally and internationally," said Myre.
For over a decade, Myre's multi-disciplinary practice has been inspired by themes of identity, language, longing, and loss. The commissioned work, called Living with Contradiction (working title), is a two-channel video that explores the challenges and issues that contemporary Indigenous artists and arts professionals face working within a global Indigenous paradigm. Following the completion of the work, Myre's piece will enter the Banff Centre's permanent collection, overseen by the Walter Phillips Gallery. 
The project was unanimously chosen by the Banff Centre and previous Indigenous Residency faculty, Candice Hopkins and David Garneau. 
"Good artists always push their work in new directions. Nadia Myre is no exception. This commission follows in a new path in her practice, a video that considers the importance of conversation. It promises to be a poignant document of a community of Indigenous practitioners, that offers to dig deeper into the contractions, questions, and complicities that mark identity-based practices," said Hopkins. 

The Walter Phillips Gallery Indigenous Commission Award reflects Banff Centre's dedication to excellence in Indigenous programming, as outlined in its new, five-year strategic plan entitled The Creative Voice: 2016-2021. Highlights from the plan are available online at banffcentre.ca

"Banff Centre is proud to offer excellent Indigenous Arts learning and creation opportunities that explore contemporary issues and embody the values of Indigenous people," said Carolyn Warren, Vice President, Arts, Banff Centre for Arts and Creativity. "This commissioning award is a very significant initiative in Canada to support the creation of original works by contemporary Indigenous artists in the visual arts."

Banff Centre's Walter Phillips Gallery is proud to support the development of visual and digital art in Canada, and has been commissioning and exhibiting contemporary art since 1976. Watch banffcentre.ca for more details about the Gallery's 40 anniversary exhibition, No Visible Horizon: 40 Years of Walter Phillips Gallery on view from October 7 – December 18, 2016.  

The Walter Phillips Gallery Indigenous Commission Award is generously supported by RBC.

For more information about Banff Centre's new strategic plan, events, and programs and Walter Philips Gallery, visit banffcentre.ca 
About Banff Centre for Arts and Creativity:  Founded in 1933, Banff Centre for Arts and Creativity is a learning organization built upon an extraordinary legacy of excellence in artistic and creative development. What started as a single course in drama has grown to become the global organization leading in arts, culture, and creativity across dozens of disciplines. From our home in the stunning Canadian Rocky Mountains, Banff Centre for Arts and Creativity aims to inspire everyone who attends our campus – artists, leaders, and thinkers – to unleash their creative potential and realize their unique contribution to society through cross-disciplinary learning opportunities, world-class performances, and public outreach. www.banffcentre.ca
About Walter Phillips Gallery: Walter Phillips Gallery is exclusively committed to the production, presentation, collection and analysis of contemporary art and curatorial practice. For contemporary artists, particularly those engaged in alternative forms of practice, Walter Phillips Gallery remains an essential and principle site where art is presented to an audience for critical reception.  www.banffcentre.ca/walter-phillips-gallery
About the Nadia Myre: Nadia Myre is a visual artist from Québec and an Algonquin member of the Kitigan Zibi Anishinabeg First Nation.  For over a decade, her multi-disciplinary practice has been inspired by participant involvement as well as recurring themes of identity, language, longing, and loss. Myre is a graduate from Camosun College (1995), Emily Carr (1997), and Concordia University (MFA, 2002), and a recipient of numerous grants and awards, notably: Sobey Art Award (2014), Pratt & Whitney Canada's 'Les Elles de l'art for the Conseil des arts de Montréal (2011), Quebec Arts Council's Prix à la création artistique pour la region des Laurentides (2009), and a Fellowship from the Eiteljorg Museum (2003). www.nadiamyre.net