Banff Mountain Book Competition announces 2020 Award Winners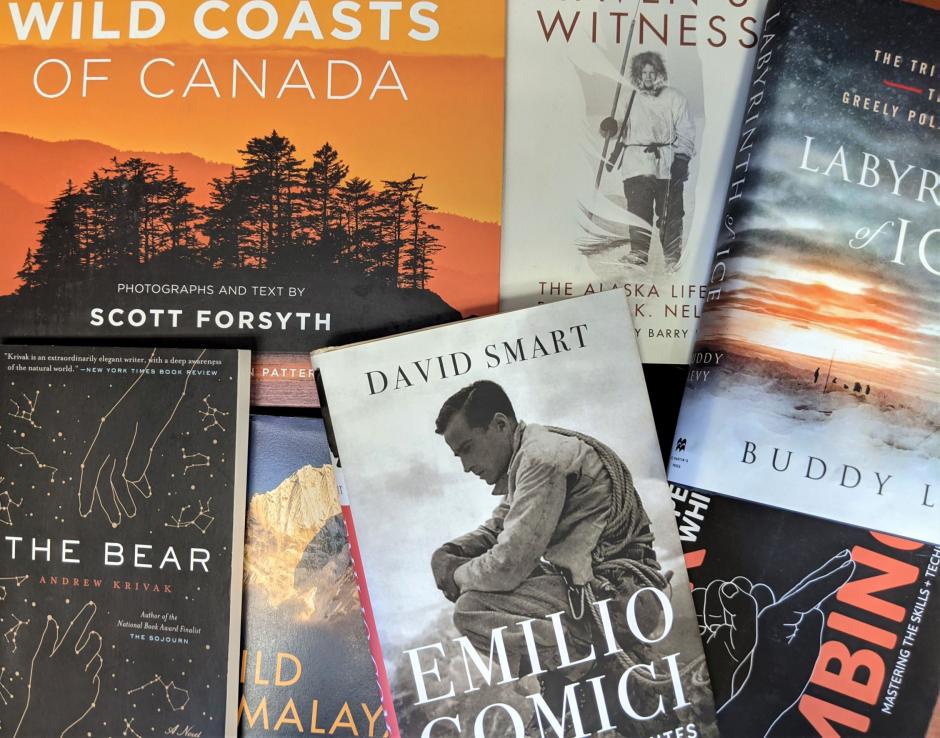 The Banff Centre Mountain Film and Book Festival is proud to announce the winners of the 2020 Mountain Book Competition. The award winners represent the best in this year's mountain literature and are short-listed for the 2020 Grand Prize to be announced on Thursday, November 5 during the virtual Banff Centre Mountain Film and Book Festival (October 31-November 8).  

"Selecting winners is no easy task, especially when the starting point is one of excellence. As jurors, we answer to a set of criteria from a writing and production point of view, and we consider how each book resonates on a grander scale. As the process unfolded this year, it became clear that every book added to the next and that the best solution is for the audience (that's you!) to read the entire shortlist."
- 2020 Banff Mountain Book Jury
The Mountain Book Competition is an internationally recognized literary competition with over $20,000 in cash and eight awards selected by an international jury comprised of writers, adventurers, and editors. This year's jury includes: Helen Rolfe, Nandini Purandare, and Pete Takeda. Award winners are selected from the best in mountain and adventure literature, mountain fiction, mountain image, mountain articles and mountaineering history, and guidebooks. This year 137 book submissions from authors in 11 countries were honed down to a longlist of 23 finalists and from that list our 2020 jury determined category award winners. 
2020 Category Award Winners: 
Mountain Literature (non-fiction) - The Jon Whyte Award
$2000 - Sponsored by the Whyte Museum of the Canadian Rockies 
Raven's Witness: The Alaska Life of Richard K. Nelson
Hank Lentfer, Mountaineers Book (USA, 2020)
Mountain Fiction and Poetry 
$2000 - Sponsored by the Town of Banff 
The Bear
Andrew Krivak, Bellevue Literary Press (USA, 2020)
 
Mountain Environment and Natural History 
$2000 - Sponsored by Canadian Mountain Network 
Wild Himalaya: A Natural History of the Greatest Mountain Range on Earth
Stephen Alter, Aleph Book Company (India, 2019)
Adventure Travel 
$2000 - Sponsored by World Expeditions 
Labyrinth of Ice: The Triumphant and Tragic Greely Polar Expedition
Buddy Levy, St. Martin's Press (USA, 2019)
 
Mountain Image
$2000 - Sponsored by Banff and Lake Louise Tourism 
The Wild Coasts of Canada
Scott Forsyth, Rocky Mountain Books (Canada, 2019)
 
Guidebooks 
$2000 - Sponsored by Association of Canadian Mountain Guides
Crack Climbing: The Definitive Guide
Pete Whittaker, Vertebrate Publishing (UK, 2020)/ Mountaineers Books (USA, 2020)
Mountaineering Article 
$2000 - Sponsored by the University of Alberta and the Alpine Club of Canada 
Leper Chai
Jeff Long, Rock & Ice Magazine (USA, March 2020)
Climbing Literature 
$2000 - Sponsored by RMB (Rocky Mountain Books) 
Emilio Comici: Angel of the Dolomites
David Smart, Rocky Mountain Books (Canada, 2020)
The 2020 Banff Mountain Book Competition category awards will be presented as part of the virtual Banff Centre Mountain Film and Book Festival October 31- November 8. The winner of the Grand Prize will be announced Thursday, November 5. 
Banff Centre Mountain Film and Book Festival passes are available for $150 CAD until November 3, 2020. Single event tickets go on sale October 31, 2020. For more information on the 2020 Banff Centre Mountain Film and Book Festival, please visit https://www.banffcentre.ca/virtual-festival