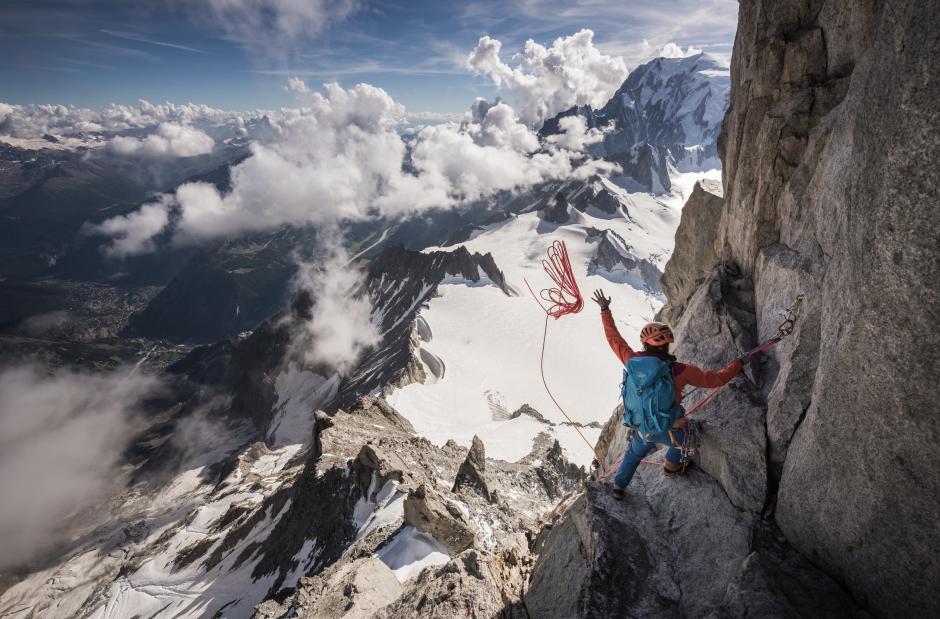 The annual Banff Centre Mountain Film and Book Festival signature image represents the best in mountain adventure photography from around the world. Each year we put the call out to photographers and receive a diverse range of mountain and adventure images.

We are pleased to announce that the 43rd annual Festival and World Tour will be represented by Ben Tibbetts' image of Valentine Fabre on the east face of the Dent du Géant on the French/Italian border.  Our Festival team chose this image as it exudes great energy, atmosphere, action, and really speaks to the spirit of adventure in the mountains. 
Of this particular image, says Ben, "It was mid-August in a very busy summer of climbing and guiding so I was looking for something quiet. I had heard about an esoteric and rarely climbed route on the north ridge of the Dent so we snuck round and climbed this wild and interesting route on excellent granite."  He adds, "I don't normally go for classic shots like throwing the abseil ropes, but I was scrambling towards my girlfriend Valentine when I noticed how the Mont Blanc range was laid out behind her. When I took the shot I barely registered that it might be anything more than a shot to fill in the narrative of the climb, especially as we were already in the shade. It wasn't prepared or posed in any way, and I guess that's why it remains quite fresh despite the well-used motif."
Ben is an adventure photographer, artist, and IFMGA mountain guide based in Chamonix and the UK who says he likes to work in "remote and cold" environments. He studied Fine Art to a postgraduate level and has been able to combine his love of art and photography with his passion for adventure in mountainous environments.  He has spent nearly two years working in the Antarctic and over four months in Greenland. In Europe he is usually preoccupied with climbing long Alpine routes of all different styles and difficulty or looking for interesting lines to ski. He is also an accomplished ski mountaineer, having made in a single push, a 31-hour traverse of the Haute Route, placed 3rd in the Patrouille des Glaciers (2014), competed in the World Championships and many other ultra-marathon ski events, as well as a handful of steep first ski descents including "Veine de Pierre" and "Fou de Fouly" in the Mont Blanc Massif.  However, his focus over the last five years has been his most epic project to date, a large format photography guidebook about the finest routes on the 4000 metre peaks of the Alps. After compiling 200,000 photos and spending over 300 days out on peaks – many with Valentine – Alpenglow will be available in Fall 2018.
Ben came to the Festival in Banff as a film finalist last year, with his film A Line in the Snow – Greece which was screened at the 2017 Festival.
For more information on Ben Tibbetts and his work visit www.bentibbetts.com
As usual I was carrying a chunky full frame camera, but unusually I had decided to bring an obscenely heavy 14mm ultra-wide angle lens as I thought it might help photographing the steep and narrow ridge, which thankfully it did.