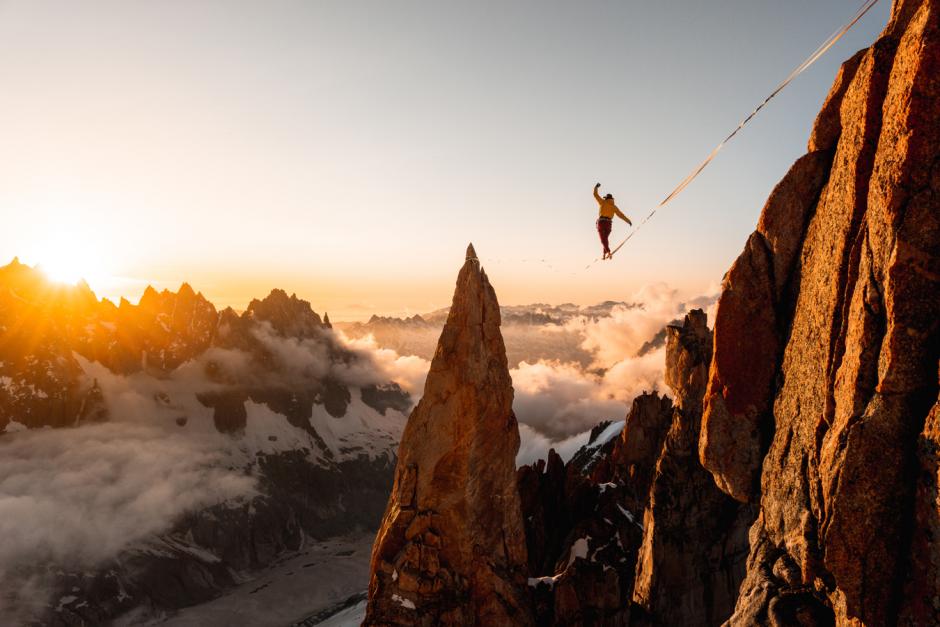 Banff Centre Mountain Film and Book Festival Signature Image 
The 48th annual Festival and World Tour will be represented by Antoine Mesnages's image of Hael Somma highlining in Chamonix, France.
The annual Banff Centre Mountain Film and Book Festival signature image represents the best in mountain adventure photography from around the world. Every year we encourage photographers to submit their best images and we receive a broad range of inspiring and epic photos. We then narrow down our selection to choose one image to be featured in all our media for the Festival in Banff and around the world, now in over 50 countries on the Banff Centre Mountain Film Festival World Tour!
As always, we received a diverse selection of images – and our final batch included some fabulous images ranging from a skier jumping over a crevasse, ice climbing in the Rockies and Iceland, alpinists in Ecuador and Alaska, West Coast biking, southern US rock climbing, and so much more! 
The image that literally rose to the top for us this year was this unique and jaw-dropping photo of a highliner. We were drawn towards both the epic mountain setting as well as the pure sense of energy and excitement in this scene. The past few years we had pictures of tents and basecamp in Alaska (2021) and a relaxed and joyful photo of the two casual-looking climbers with blue sky and red rock in Australia (2022) – and we felt this image of the slackliner had a great balance – with its moody mountains at sunset and the unique and solitary sense of adventure to represent the broad range of outdoor adventure content featured in the Festival and World Tour! 
This photo was taken in the Periades, in the Mont Blanc range by photographer and slackliner, Antoine Mesnage, who went there to take images for the movie, Out of Frame, directed by Jordan Manoukian. Says Mesnage, "It took us 3 days in total to reach, rig, and open this new line. I took the first go on the line and did a few walks back and forth." He adds, "It was really scary, being at the middle of the Mont Blanc Massif, with all these mountains around, more than a hundred meters above the ground." And of this specific photo, says Mesnage,  "We walked the line at sunset intentionally to get the best images, and I was able to capture this picture of my friend Hael while he was enjoying this unique moment." 
Antoine Mesnage is a photographer and filmmaker, living in Annecy, France. He has always been passionate about outdoor sports, and started highlining 12 years ago. This sport became his obsession, and since then he has been looking to walk between any gap he could find. He says he was "frustrated not to have amazing photos while rigging new lines with my friends, so I began taking pictures and making videos, and have slowly become a professional photographer." Mesnage also directed his first movie, Arves en Ciel, which was a finalist in the 2021 Banff Centre Mountain Film and Book Festival and shown on the World Tour. 
Find out more about Antoine Mesnage
Instagram: @antoine.mesnage
Find out more about the Signature Image Challenge.
Antoine Mesnage: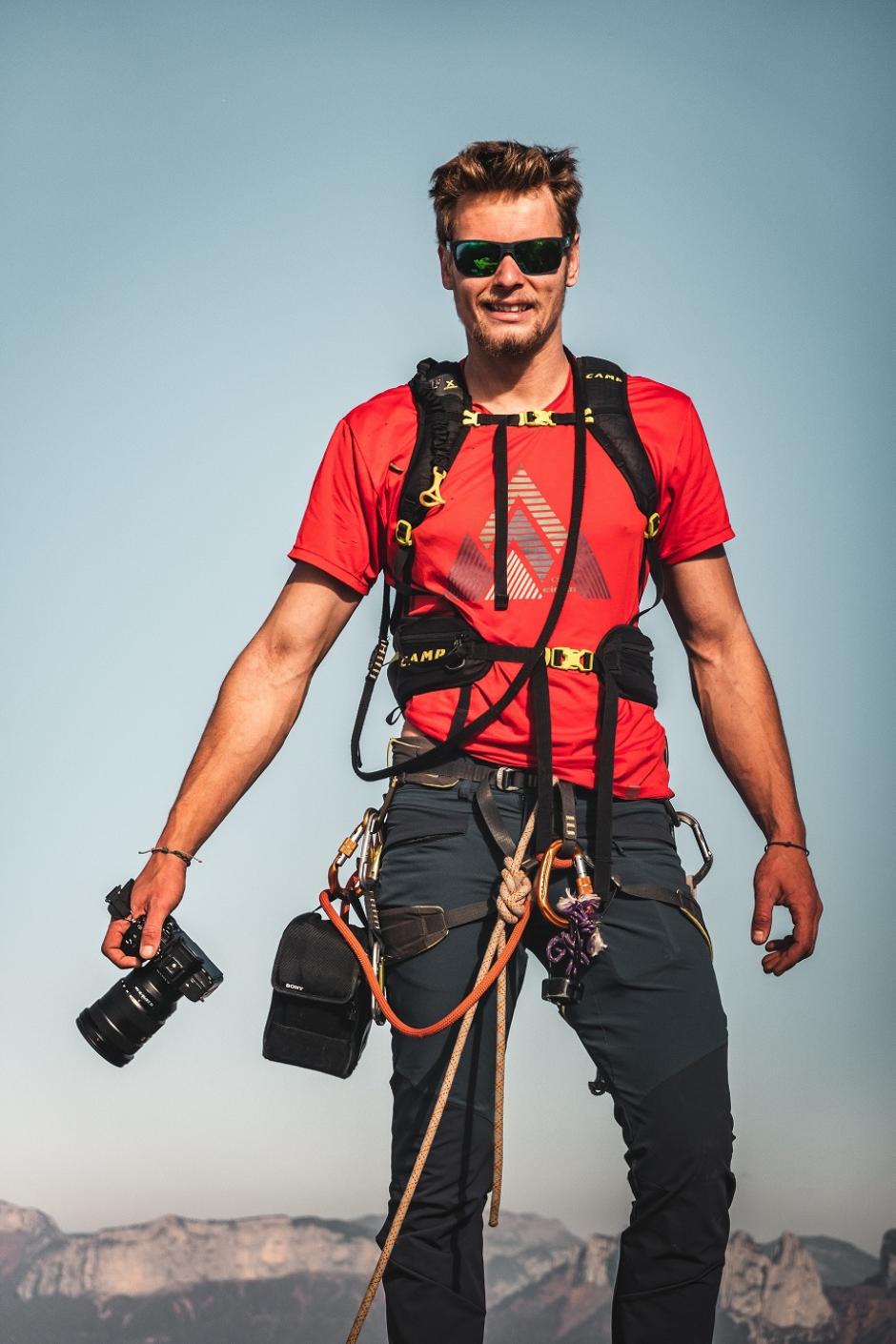 It was really scary, being at the middle of the Mont Blanc Massif, with all these mountains around, more than a hundred meters above the ground.
Here's a sample of a 2023 Festival advertisement with Antoine's Image. (Poster design coming soon!) 
Stay Updated 
We are excited to share updates and news surrounding the 48th annual 2023 Banff Centre Mountain Film and Book Festival and World Tour in the coming months as well as updates on our 2023 Banff Adventure Filmmakers Workshop, Film/Book/Photo Competitions, and more! 
Make sure you subscribe to our newsletter lists so you don't miss out!
You can customize which emails you'd like to receive.