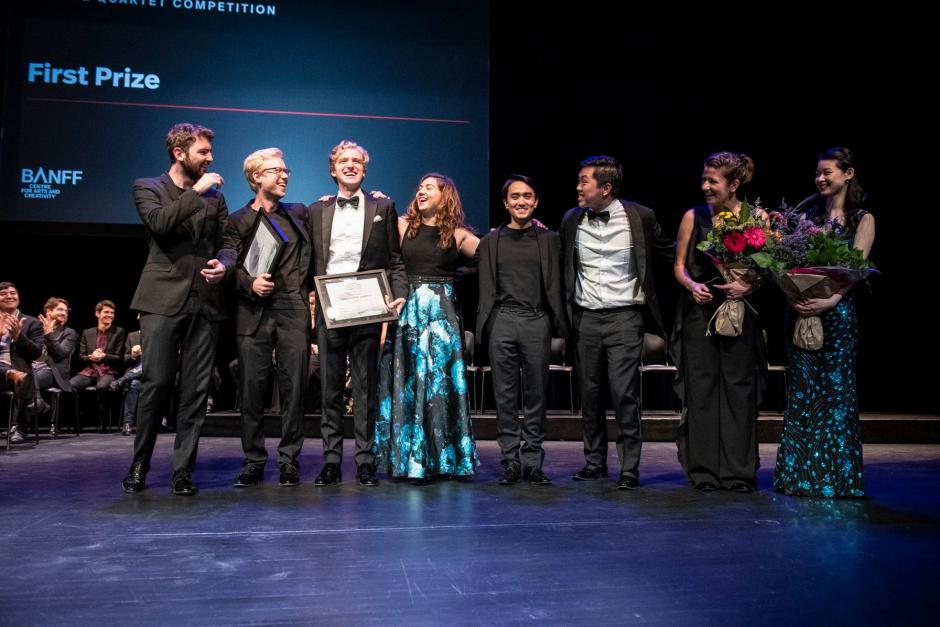 European Tour
For the first time in its history, the BISQC jury awarded the grand prize to two quartets. The Marmen Quartet from the UK and the Viano String Quartet from Canada/USA. 
Catch each of the two quartets as they tour through 40 major markets throughout Europe. 
Check back regularly as more concert dates are added! 
January
January 11, 2020 | Viano String Quartet
Venue: Laeiszhalle, Brahms-Foyer
Hamburg, Germany
January 12, 2020 | Viano String Quartet
Venue: Philharmonie de Paris
Paris, France
Exhibition Only - no tickets
January 13, 2020 | Viano String Quartet
Venue: Arithmeum
Bonn, Germany
January 15, 2020 | Viano String Quartet
Venue: Orangerie am Schlosspark Rheda
Rheda, Germany    
January 17, 2020 | Viano String Quartet
Venue: Conservatoire de Musique
Esch-sur-Alzette, Luxembourg
January 18, 2020 | Viano String Quartet
Venue: Wittlich, Synagoge
Wittlich, Germany    
January 19, 2020 | Viano String Quartet
Venue: Kurfürstensaal im Kurmainzer Amtshof
Heppenheim, Germany    
January 20, 2020 | Viano String Quartet
Venue: Die Glocke - Kleiner Saal    
Bremen, Germany    
January 22, 2020 | Viano String Quartet
Venue: Konzerthaus Berlin
Berlin, Germany
January 24, 2020 | Viano String Quartet
Venue: Flagey
Brussels, Belgium
January 26, 2020 | Marmen Quartet
Venue: Muziekgebouw
Amsterdam, Netherlands
February
February 1, 2020 | Marmen Quartet
Venue: Barocksaal im Gymnasium
Tegernsee, Germany
February 4, 2020 | Marmen Quartet
Venue: Tagungszentrum Oekolampad
Basel, Switzerland
February 5, 2020 | Marmen Quartet
Venue: Meistersingerhalle, kleiner Sal
Nuremberg, Germany
February 7, 2020 | Marmen Quartet
Venue: Stadthaus Ulm
Ulm, Germany
February 8, 2020 | Marmen Quartet
Venue: Bruchsaler Schlosskonzerte
Bruchsal, Germany
February 9, 2020 | Marmen Quartet
Venue: Furstensaal im des Stadtschlosses
Fulda, Germany
February 11, 2020 | Marmen Quartet
Venue: Kaisersaal
Brixen, Italy
February 12, 2020 | Marmen Quartet
Venue: Kurhaus Merano, Pav. Des Fleurs
Merano, Italy