Evolution: Quartet 2022 Participant and Faculty Program (Jul 22)
Participants and Faculty from Evolution: Quartet 2022 Programming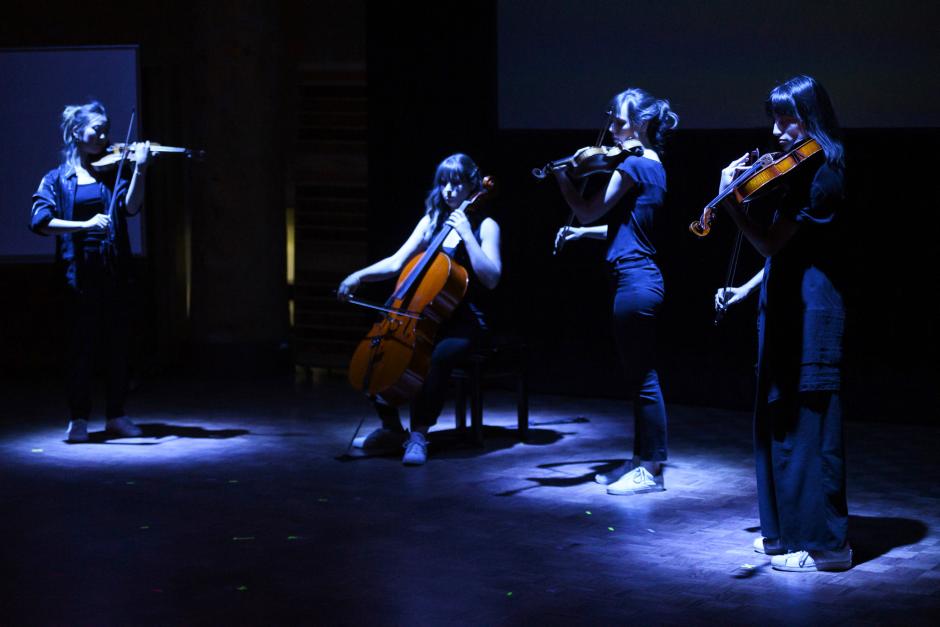 Message from Artistic Director
We are so pleased to welcome you back to Sacred Buffalo Guardian Mountain, for summer performances at Banff Centre.
It is with great excitement that summer music residency programs return to Banff National Park this year, under the leadership of Annalee, Jamie and Roman from Canada's renowned Gryphon Trio. While the Covid-19 pandemic has impacted artists and arts organizations across the land, the Gryphon Trio and their supporting faculty and staff have expertly convened an esteemed, international cohort that will include artistic exchange, collaboration, shop talk, concerts, and no doubt some mischief.
We thank our many supporters who help make it possible for these artists to benefit from a rich Banff Centre experience. If we ever took arts crowds for granted before Covid prevented us from gathering, we never will again in our lifetimes.
Lastly: we hope you can pardon the construction outside this summer as the redesigned pathway takes shape up St. Julien Road to the campus. It's about to look better than ever!
~ Nathan Medd, Managing Director, Performing Arts
About the Program
Join us for two concert highlighting mentors from the Evolution: Quartet program and six  participant concerts showcasing Banff Centre's long history with one of the pillars of western classical music – the string quartet. Having mentored with the Eybler, Parker and JACK Quartets, musicologist Suzannah Clarke, and composers Suzanne Farrin and Felipe Lara, six participant quartets and six composers reveal the results of their intensive Evolution: Quartet residency experience. Engaged in discussions focused on historically informed practices, new contemporary techniques, intonation, harmony, structure and rhetoric, instrumentalists come away with new depth, dimension and clarity of intent. Challenged and inspired by faculty and participant ensembles, early career composers offer new inspiring works for your consideration.
This house program highlights the artists and faculty who are here for the duration of the Evolution: Quartet program and concerts. To find out specific program repetoire and curation, please check out each individual concert event. 
Friday, July 22 in the Rolston Recital Hall at 4:00PM:
Artistic Producers — Margaret Jordan-Gay & Caroline Hollway
Transatlantic Salon
This concert celebrates the music of Maddalena Laura Lombardini Sirmen, Joseph Bologne Chevalier de Saint-George, Pedro Ximenez Abrill Tirado, and Ihlara McIndoe and their creative and diverse approaches at captivating 18th, 19th and 21st century salon audiences in Europe and The Americas. 
In this Eden, kōwhai blooms | Ihlara McIndoe (b.1997) — Ximenez Quartet; Karin Cuéllar Rendón, violin; Simon Alexandre, violin; Namgon Lee, viola; Jessica Korotkin, cello
String Quartet N. 4 | Joseph Bologne, Chevalier de Saint-George (1745-1799) — Ximenez Quartet
      i) Allegro moderato
      ii) Rondeau
String Quartet N. 5 | Maddalena Laura Lombardini Sirmen (1745-1818) — Ximenez Quartet
      i) Larghetto-Allegro-Larghetto
      ii) Minueto
Quarteto Concertante op. 55 | Pedro Ximenez Abrill Tirado (1784-1856) — Ximenez Quartet
      i) Allegro
      ii) Adagio con Sordina
      iii) Rondo
Friday, July 22 in the Rolston Recital Hall at 7:30PM:
Artistic Producers — Margaret Jordan-Gay & Caroline Hollway
Winds of Change
Our multicultural program showcases how our music and identities intertwine.  Each of the last four pieces was chosen by a different member of our quartet to represent their home, their past, present, and ultimately, our connected futures.
 
Concentric Vices (2022) | Kalaisan Kalaichelvan — Dior Quartet; Noa Sarid, violin; Tobias Elser, violin; Caleb Georges, viola; Joanne Yesol Choi, cello
Credo for String Quartet (2007) | Kevin Putts (b.1972) — Dior Quartet
      i) The Violin of Guru of Katonah
      ii) Infrastructure
Widows & Lovers : III Black Widow (2007) | Aviya Kopelman (b.1978) — Dior Quartet
Yessori (Sound from the Past) (2017) | Soo Yeon Lyuh (b.1980) — Dior Quartet
String Quartet N. 1 (1993) | Eleanor Alberga (b.1949) — Dior Quartet
      iii) Frantically Driven Yet Playful
 
Repertoire from previous concerts can be found on the corresponding event page. 
July 12 - Evolution: Quartet — Sonic Pillars and Contrasts
July 19 - Evolution: Quartet — Mozart Plays with Lara and Lim
This program is generously supported by the Maria Francisca Josepha Brouwer Fund for Dutch Artists, Alice & Betty Schultz Endowment Fund, Cyril & Elizabeth Challice Teaching Fellowships in Music, Yolande Freeze Master Artists in Music Fund, Peter & Sheila Bentley Distinguished Guest Artist, and The Gryphon Trio.
Additional Messages
Welcome!
We are thrilled to welcome you to the Banff Centre campus for this summer's Evolution: Quartet faculty and program concerts. The string quartet has long been an essential element of the Banff Centre echo system and the absence of chamber music in the Bow Valley
for the last two years has been deeply felt. The work that you witness and the sounds you will hear will amplify a resonance initiated earlier this summer by participants in the Evolution: Classical program, and will signal a glorious end to a two-year period of eerie silence.
The Evolution: Quartet program brings together a unique and powerful faculty with a brilliant cohort of international participants that will collectively explore the entire lineage of string quartet genre. While on one hand expanding and enriching their capacity to interpret and perform music from previous centuries, quartets will collaborate with composers to create, hone and bring to life music made in our time. All of this to be shared with you, over the course eight concerts from July 12 - July 25.
If this is your first time venturing into Banff Centre summer music, welcome. We are thrilled to have you join us for this golden summer at the Banff Centre!
~ Annalee Patipatanakoon, Roman Borys, Jamie Parker — Directors, Banff Centre Summer Music Classical Programming
About the Company
Production Staff:
Brendan Briceland - Head of Projection
Brett Rayner - Head Stage Carpenter
Raj Rathore - Assistant Head Stage Carpenter
Lyle Fish - Head of Sound
Charles Culver - Assistant Head of Sound
Matt Flawn - Head of Lighting
Darrell Shaw - Assistant Head of Lighting
Juan Anez - Omni Technician
Albert Picknell - Head Piano Technician
Henry Ng - Audio and Music Technician
Genevieve Nevin-Jones - Production Coordinator
Chaz Anderson - Production Coordinator
Samantha Hindle - Technical Director
Bronwyn Bowlby - Assistant Production Manager
Woody MacPhail - Senior Technical Producer
James Clemens-Seely - Senior Recording Engineer
Jeff Kynoch - Recording Engineer
Jen Chiasson - Lead Video Technician
Darcy Locke - Maintenance Technologist Video
Raffi Tchalikian - Technical Support
Nathan Medd - Managing Director, Performing Arts
Jake Tkaczyk - Program Manager, Performing Arts
Nate Spasiuk - Program Delivery Specialist