Practicum Program Participants
Below you'll find information specific to your upcoming experience as a practicum program participant.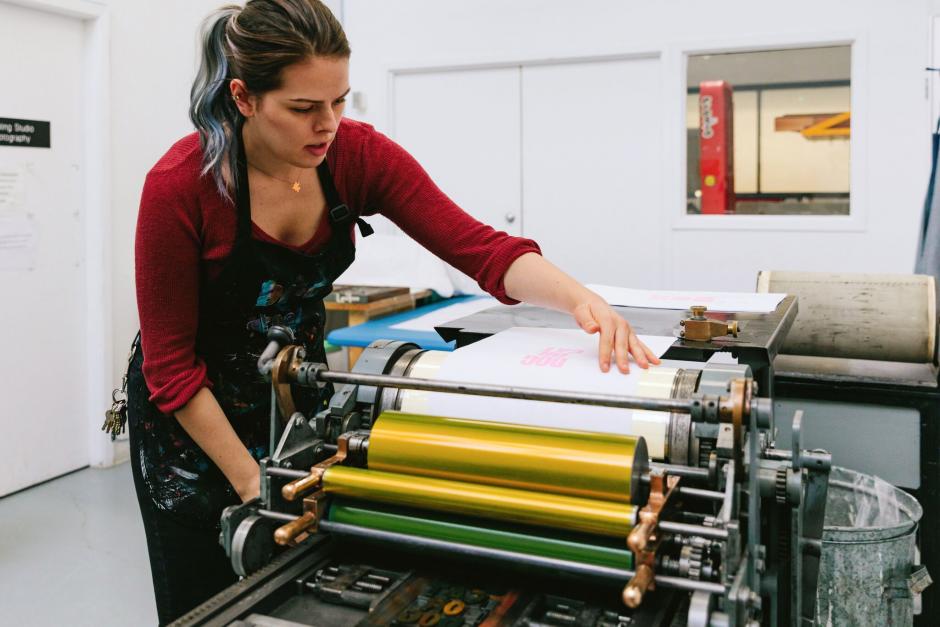 Learning Agreement
Before the start of your program you will be given a Learning Agreement to sign. The Learning Agreement will lay out the parameters of your practicum program experience while at Banff Centre. It will also provide you with the names of your mentor and supervisor, who are your first points of contact; they will help you achieve your learning objectives. It is important to read your Learning Agreement thoroughly and ask for clarification if necessary.
Medical Insurance for Non-Canadians
Flex Meal Plan
As a practicum program participant you will not be enrolled in a Flex Meal Plan. However, by showing your ID card and paying cash, you will receive a discount in The Hub, the staff dining room. Practicum program participants can also prepare their own food in one of the communal kitchens. 
Postal and Courier Services
The on-site mail room is located in the Services Building and provides most post office services including courier access. Your parcels and mail may be picked up there. You are required to show your ID card to pick up your mail. 
Address your personal mail to:
Practicum participant's name
c/o Banff Centre for Arts and Creativity
Box 1020, Bag 6000
107 Tunnel Mountain Drive
Banff, AB T1L 1H5
The mail room is open from 8 a.m. to 5 p.m. Monday through Friday and closed on holidays. You may prefer to set up a post office box or have general delivery at the Banff Post Office at no cost.
On-site Accommodation
If you are staying on-site as a practicum participant you will most likely be living in Farrally Hall. Rooms are dormitory style and include a bath and/or shower, linens, and a telephone with voicemail. There is a communal kitchen to prepare meals and a lounge space with fireplace for your enjoyment. See Artist Accommodation for more information and photos. 
Off-site Accommodation
The Rocky Mountain Cooperative Housing (RMCH) is located on the banks of the Bow River and is about a 20-minute walk to/from Banff Centre.
As available accommodation space is limited, no one living in practicum program accommodation can be guaranteed a single bedroom or apartment. Most RMCH bedrooms are shared spaces with two practicum participants each and up to four participants to an apartment. None of the housing at the RMCH is family oriented.
Each unit is fully furnished and includes cable, linens, three appliances, and basic kitchenware. There is no wireless Internet available at the RMCH. You will be responsible for setting up your own internet service.
The RMCH is a secured building with parking and laundry facilities. You will receive detailed information about the facility upon acceptance. You will be required to sign a Housing Agreement that outlines residency guidelines. A $200 deposit is required.
The RMCH Housing Coordinator will check you in, give you a residential orientation, and provide you with a housing information booklet. If you have any questions prior to your arrival, please contact the Housing Coordinator at 403.763.8980. 
See Artist Accommodation for more information and photos.
Cost of Living in Banff
Banff can be an expensive place to live due to its remote setting and tourist economy. Prepare for your time in Banff by understanding the basic costs of living in town.
Food: Your monthly grocery costs may average around $175-$200 per person depending on your appetite, tastes, and frequency of take out. You can offset the cost of groceries by dining at The Hub, Banff Centre's staff cafeteria, which is highly subsidized. Upon showing your practicum card, you can access the buffet style meals offered throughout the day.
Utilities: You will be required to install internet services upon moving into Banff Centre off site accommodations. Expect a cost up to $100 per month not including installation fees. Free wifi is available on the Banff Centre campus.
Phone: The Rocky Mountain Cooperative Housing suites do not have land line telephones.
Transportation: Banff is a compact town site that is pedestrian friendly. Roam Transit offers regular and extensive service within Banff for $2 one way. If you're looking to travel further, Roam provides service to Canmore for $6.
Non Banff Centre Housing: Housing is difficult to find in Banff and quite expensive. If you are interested in living off site for the duration of your program, start looking far in advance of your arrival in Banff, and be prepared to pay $500-$700 for a shared room, and anywhere between $1100-$2400 for a one- to two-bedroom apartment.
Sight-Seeing and Entertainment: Banff is a tourist destination and this is reflected in the price of meals and drinks at restaurants as well as admissions to local attractions. Most businesses offer a locals' discount to Banff residents. Take advantage of this by inquiring everywhere you go!
Resources Available to You to Offset Cost
Community Rummage Sales and Gear Swaps: Community sales and gear swaps are an excellent way to pick up inexpensive used clothes, household goods, and sporting equipment. Take advantage of these seasonal events to outfit yourself and your life in Banff. Keep an eye on the Town of Banff website and community newspapers for upcoming sales and swaps.
Rundle Thrift Shop: Operating in conjunction with the Rundle United Memorial Church, this community thrift shop is open year-round and well stocked with essential items to help you settle in to Banff.
BanffLIFE: A community resource dedicated to building healthy lifestyles for young adults working and living in Banff. Programs include Pasta Nights, DJ in the Park, Mountain Adventure, Yoga classes, Theatre Collective, and Banff Ambassador.
Banff Ambassador: Designed as a way to encourage fun and knowledgeable exploration of Banff National Park, BanffLIFE offers this three-part course free of charge in partnership with Banff & Lake Louise Tourism. Upon completion, you will receive a Banff Ambassador pass valued at over $500.
Food Rescue: Food Rescue is a local, volunteer-run initiative to prevent food waste and build community ties. Food is donated by local grocers just prior to expiry dates and made available to the community. Donations are appreciated.
On-It Transit: Travel between Calgary and Banff can be expensive. On-It Regional Transit offers transportation to/from Calgary for $10 on weekends and holidays during the summer season. For schedules, see On-It Regional Transit. 
International Practicum Program Participants
For important information regarding immigration matters prior to the start of your program, please see International Visitors. 
Contact Us
For questions about practicum programs at Banff Centre, please contact:
Email:
registrars_office@banffcentre.ca
Phone:
403.762.6180
Address:
Banff Centre for Arts and Creativity
107 Tunnel Mountain Drive
Box 1020
Banff, Alberta
Canada
T1L 1H5