Applications are now open for Spring/Summer 2024 programs. For Fall 2024 progams onwards you can sign up to the Newsletter to receive an alert when applications open.
The Application and Payment systems will be closed from the 20th December to 3rd January as part of the Institutional Holiday Closure. SlideRoom will remain open for portfolio submissions.
Questions please contact the Admissions Office or call 403 762 6180.
Classical Indigenous Music Residency - Summer 2024
Indigenous Arts | In Person
Program Information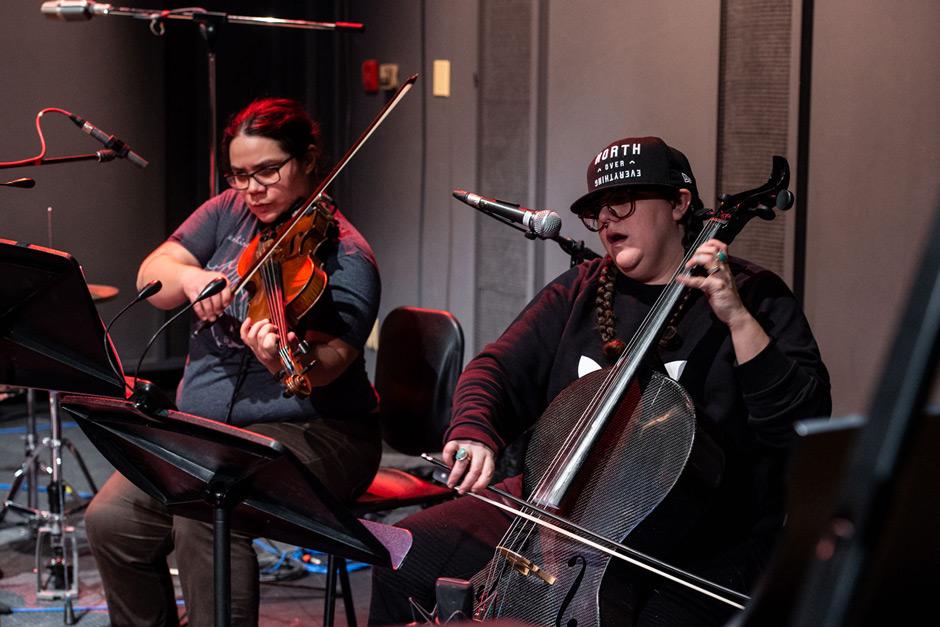 Overview
This residency brings together Indigenous musicians working with the Classical genre to cultivate relationships, personal craft and build strong networks that propel careers forward with an opportunity to showcase their works in progress. The program welcomes themes of listening, frequencies of land and connections to one's culture. 
What Does the Program Offer
This program welcomes Indigenous classical musicians and composers to either explore experimental elements, or accomplish finished productions of their work to the best of their capacity, in a fully supported environment.
Participants will have self-directed study time to work on their projects, and spend time gathering for presentations, workshops and to prepare to share works in progress together in a concert that will be part of the LISTEN HEAR NOW Four Day Festival.
Who Should Apply
Regional, national, global Indigenous music practitioners Including: composers, singers, instrumentalists, scholars, students provocateurs, disrupters, advocates pushing the boundaries of their artistic practice, artists that serve their community, artistic leaders in Classical music. While a university degree in the field isn't needed, you should be working or intending to work in the field.
Itinerary
Program will be structured daily to include:
Self- Practice
Gathering discussions
Guest Faculty professional development sessions
Collaborative performance experience. 
 
What's Included
Your program fee includes a single bedroom on the Banff Centre campus for the duration of your program.
Get connected with other artists on campus and focus on your projects in a creative environment while we take care of the day-to-day essentials.
Using a credit-based system to dine on campus, our flexible meal plans allow you to select meals according to your own needs during your stay. Banff Centre can accommodate most dietary requests. 
The Full Flex meal plan is calculated at $70 credit per day, equivalent to breakfast, lunch and dinner at our Buffet service.
This program offers opportunities to showcase your work-in-progress in one of our performance venues.
Create in one of our specialized studios.
Join in group seminars/workshops.
Limited access to the Paul D. Fleck Library and Archives.
Although the doors remain temporarily closed, you can still access a wide range of books, periodicals, recordings and scores through our digital databases available on the digital resources page, and physical items through our curbside pick-up service. 
Enrich your experience and get to know other artists on campus by taking advantage of the activities and support provided by our Participant Resources team.
Fees & Financial Assistance
Application fee: $35 
Application Fees are non-refundable.
Individual group members must pay an additional registration fee of $35 on acceptance.
*Scholarship of 100% is available and will be applied to cover tuition, meals and accommodation costs.
If you would like to be considered, please complete the Financial Aid section when uploading your supporting materials.
Banff Centre will issue official tax receipts for eligible tuition fees and financial assistance and awards as required by the Income Tax Act. You will receive a T2202 (Tuition and Enrolment Certificate) for eligible tuition fees paid and a T4A (Statement of Pension, Retirement, Annuity, and Other Income) for applicable financial assistance and awards.
Help fund your experience at Banff Centre. View a compiled list of national and international opportunities here.
How to Apply
Adjudication
Participants are selected by impartial adjudication on the basis of their submitted material. In addition to artistic merit, consideration will be given to the likelihood that the artist's work will benefit from the program. 
Please note, application fees are non-refundable and go towards supporting the review of each program application and the adjudication process. All submitted applications are reviewed by a panel of adjudicators, and due to the competitive nature of Banff Centre's programs, we do not provide feedback on applications or guarantee acceptances into programs. All applicants will be notified of their application status via email following adjudication.
All programs, faculty, dates, fees, and offers of financial assistance are subject to change. Program fee is subject to applicable taxes. Non-refundable fees and deposits will be retained upon cancellation. Any other fees are refunded at the discretion of the Banff Centre. The application deadline is 11:59 p.m. Mountain Standard Time.