Applications are now open for Spring/Summer 2024 programs. For Fall 2024 progams onwards you can sign up to the Newsletter to receive an alert when applications open.
The Application and Payment systems will be closed from the 20th December to 3rd January as part of the Institutional Holiday Closure. SlideRoom will remain open for portfolio submissions.
Questions please contact the Admissions Office or call 403 762 6180.
Indigenous Haute Couture – Digital Embellishments 2024
Indigenous Arts | In Person
Program Information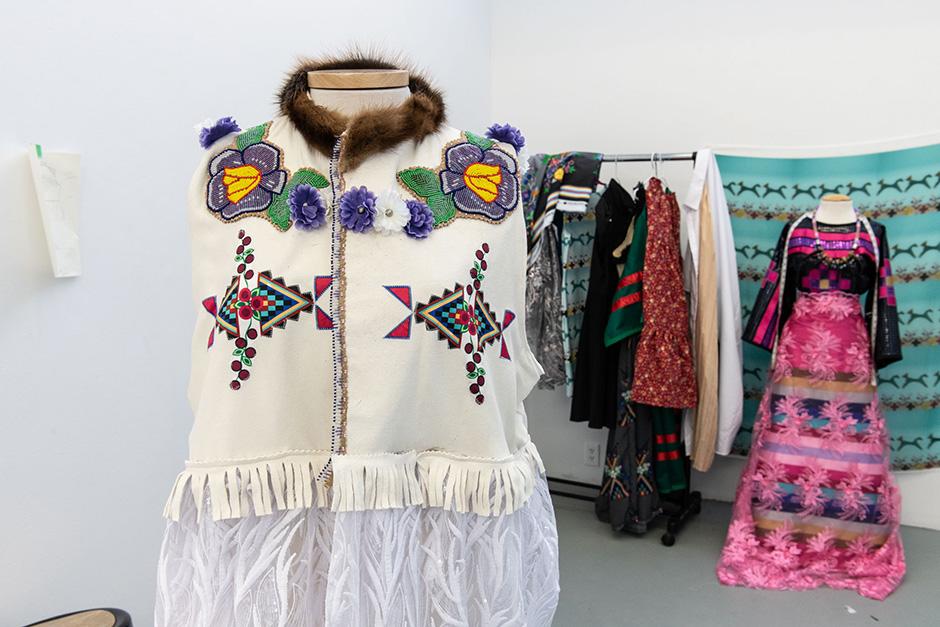 Overview
The four-week Indigenous Haute Couture Fashion Residency, led by faculty lead D'Arcy Moses, will offer eight Indigenous textile-based artists the opportunity to incorporate upcycled and/or digital embellishments into their work and to develop their designs and pattern development skills. 
Indigenous fashion makers and designers will explore experimental elements or accomplish finished productions of their work with an haute couture aesthetic in a fully supported environment.
What does the program offer?
Indigenous Haute Couture - Digital Embellishments will have a strong visual arts component adapting silk screening, laser cutting, 3D Printing, digital embroidery, and casting processes as a component to the design process, exploring fashion's responsibility to address its part in the climate crisis through adapting new elements into their designs. 
Participants are invited to bring projects to work on inspired by their Indigeneity and based on the traditional silhouettes, lines and/or materials of their culture. 
Presented discussions with faculty will focus on Indigenous identity and culture in the garment business, as well as recycling, repurposing materials and/or related conversations.
The guest faculty will support the participant's exploration and research into Indigenous Haute Couture through their Indigenous lens. 
Who should apply?
Participants must have a background in fashion or garment design in womenswear.
Participants must have a basic knowledge of pattern making in the garment business.
Participants must have some experience in garment construction, sewing, and working with a sewing machine.
Ideally, participants are interested in or already incorporate digital approaches to embellishments. 
 
This program is open to regional, national and global Indigenous fashion makers, designers and design companies, Indigenous jewelry makers, Indigenous beaders, Indigenous traditional artists including hide tanners and porcupine quillers, provocateurs, disrupters, advocates pushing the boundaries of their artistic practice, Indigenous artists that serve their community, Artistic leaders in Fashion Arts and collaborators of all performing arts disciplines.
Fees & Financial Assistance
*Application fee: $35
*Financial Aid of 100% is available to cover all program costs
If you would like to be considered, please complete the Financial Aid section when uploading your supporting materials. 
*Application Fees are non-refundable.
Banff Centre will issue official tax receipts for eligible tuition fees and financial assistance and awards as required by the Income Tax Act. You will receive a T2202 (Tuition and Enrolment Certificate) for eligible tuition fees paid and a T4A (Statement of Pension, Retirement, Annuity, and Other Income) for applicable financial assistance and awards.
Help fund your experience at Banff Centre. View a compiled list of national and international opportunities here.
How to Apply
Adjudication
Adjudication is based on artistic merit, the potential impact of the program on artists' practice and careers, project feasibility and the capacity of Banff Centre to help realize the project, and the project's fit with Banff Centre's values and strategic directions as described in its strategic plan. Banff Centre respects the need for artists to plan ahead for their visit; applicants will be notified as soon as adjudication is complete.
International Applicants
Banff Centre welcomes domestic and international applicants for this program. Please note, Banff Centre programs do not meet Canadian Student Visa eligibility requirements, you must obtain a Visitor Visa to enter Canada. Accepted individuals are responsible for identifying and complying with the immigration requirements to enter Canada as a visitor from their country of origin. Current wait times to receive a visa are much longer than normal, so applicants who require a Visitor Visa should check the current expected processing times prior to applying.
Eligibility
Applicants over the age of 18 at the program start date and Elders are eligible to apply.
All programs, faculty, dates, fees, and offers of financial assistance are subject to change. Program fee is subject to applicable taxes. Non-refundable fees and deposits will be retained upon cancellation. Any other fees are refunded at the discretion of the Banff Centre. The application deadline is 11:59 p.m. Mountain Standard Time.