Andy Genereux wins 2023 Summit of Excellence Award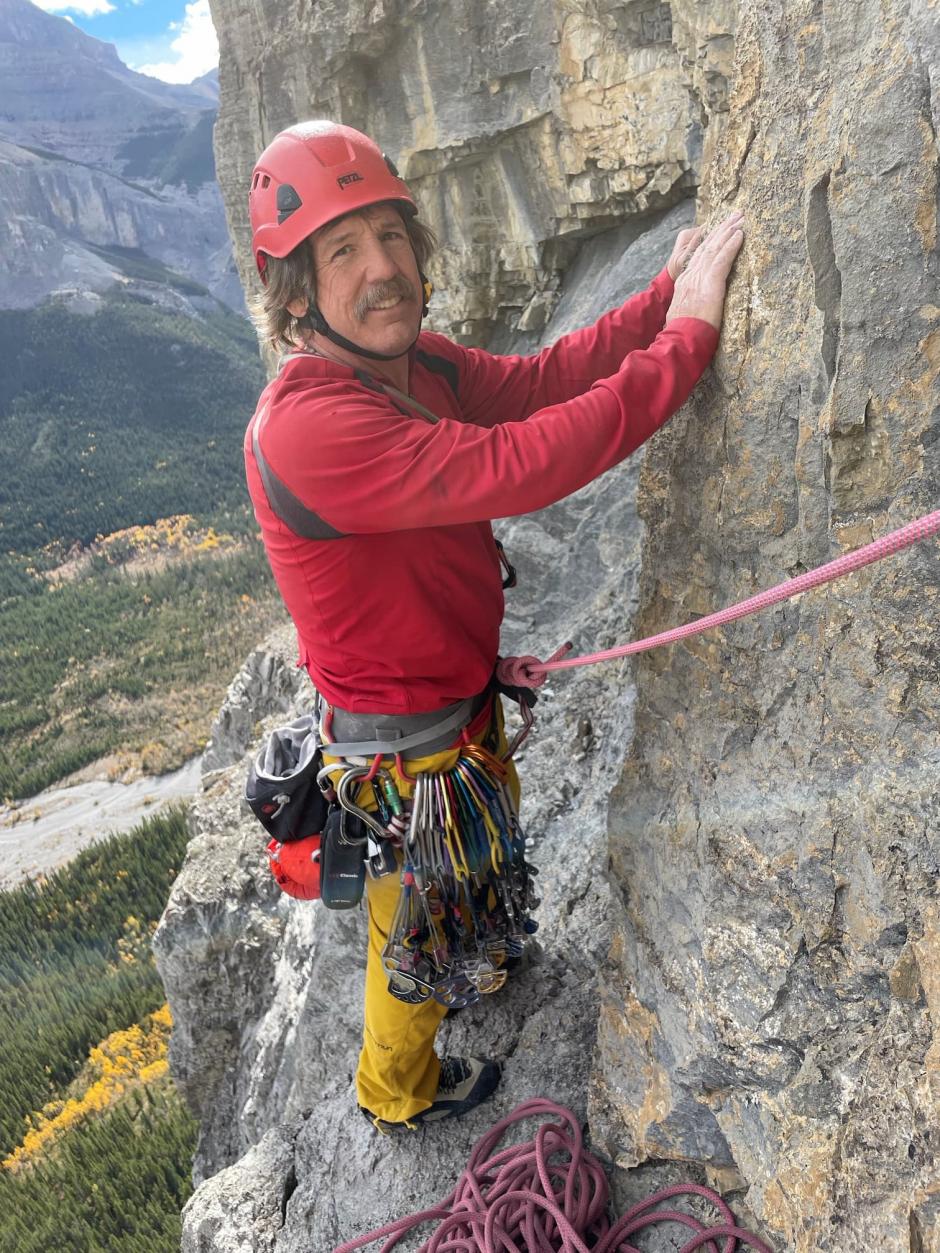 The 48th Annual Banff Centre Mountain Film and Book Festival is delighted to announce that pioneering climber, route builder, author, and mentor, Andy Genereux is the recipient of the 2023 Summit of Excellence Award.
The 2023 Summit of Excellence Award is sponsored by Norseman Outdoor Specialist and The North Face Banff Owned and Operated by Highline Outdoors. The award will be presented during the Festival on Saturday, October 28, 7:30 PM in the Jenny Belzberg Theatre. The Award celebrates long-term contributions, service, and demonstrated impact within the mountain culture community in Canada by an individual or group from across the country.
 
Andy Genereux has created a legacy of rock climbs unparalleled in Western Canada. It all began with his first new route in the Ghost River in 1983, which promptly turned into a plethora of mixed bolted and traditional new routes in the 1980s. From this taste of new routing, Genereux set on a personal journey that would last decades, and he would become one of the main instigators who brought modern-era rock climbing to the Canadian Rockies. 
At a time when there were strong ethical boundaries surrounding the traditional climbing scene and route bolting was hotly debated, Genereux established new crags and areas. Ignoring the naysayers, he ushered in the opportunity for climbers to seek even steeper climbs and higher grades. Today, his contribution to both the national sport and traditional climbing scene as a pioneer is considered exceptional. Not only is he recognized through his physical work as a route builder, but as an author and mentor as well.
To date, Genereux has put up over 600 new sport climbs along with hundreds of mixed protection traditional routes on several well-known local peaks and crags, including Yamnuska, CMC Valley, The Ghost River, Moose Mountain, Carrot Creek, Grotto Canyon and Goat Mountain as well as the nearby Selkirk Mountains. He has established more than 2,000 pitches, and he is revered for his ability to see new lines and create safe and accessible climbs. His commitment and dedication to safety often had him returning to each new route many times to build access trails, remove loose rocks, and, in the years that followed, he would regularly replace anchors, maintaining high standards that are part of his personal ethos.
Since his first rock climb on Yamnuska in 1975, Genereux was captivated. In the years that followed, he would put up 40 new multi-pitch routes on Yamnuska alone, including the first ascents of famous climbs such as CMC Wall Direct 5.11b, Master Mind 5.11d, Glory Days 5.11c, Direct Mail 5.10c, Mixed Emotions 5.10c and East End Boys 5.12a. At the time of these ascents, 5.11 was considered the hardest grade in the Rockies. Continuing to drive the evolution and difficulty of the sport, he also created 35 single-pitch routes along the base of the mountain. Genereux is also credited for establishing many major alpine rock routes in the Canadian Rockies. A few, in particular, stand out: The West Face on Mount Robertson 5.11R (650m), The Warrior on Mount Lougheed 5.10X (550m), and Gatzsch Your Goat 5.12a (650m) on Goat Mountain, Drain Game 5.11c, (600m) on Goat Mountain, Mixed Miester 5.11a, (730m) on Goat Slabs.
Genereux is generous with his knowledge and is the author of five guidebooks, including Yamnuska Rock: The Crown Jewel of the Canadian Rockies and Ghost Rock: Front Range Rock Climbs Near Calgary, both of which went to multiple editions. His writing has also appeared in Climbing, Alpinist, and Gripped magazines.
When Genereux turned 50 years old in 2010, he made it his mission to climb 50 routes on Yamnuska in a year. Setting aside doubts about the benchmarks of his age, Genereux decided to embrace the challenge and completed 50 routes within the year, dodging severe weather and a slow start to the spring climbing season. Genereux is still going strong in his 60s, and in 2022, he put up the new nine-pitch sport route in the Kahl Wall Area on Yamnuska, No Place for Old Men 5.12.b (290m). Over the past 25 years, his pet project has been the development of new routes on Moose Mountain. The nasty rock in this area has taken many long hours to tame into lead climbing. To date, of the 400 plus routes found there, Andy is responsible for 290. This climbing area is close to Calgary, although most of his routes here are moderately difficult for the enjoyment of all. With a lot of work, he still manages to climb new routes with grades up to 5.12- grade.
Presented by Banff Centre Mountain Film and Book Festival since 1987, the annual Summit of Excellence Award is presented in memory of Calgary climber Bill March, an internationally respected mountaineer, author, and educator, who led Canada's first successful Everest climb in 1982. Recent award recipients include Grant Statham (2022), Helen Sovdat (2021), Raphael Slawinski (2020), David Smart (2019), Jacques Olek (2018), Don Serl (2017), David P. Jones (2016), Pierre Lemire (2015), Urs Kallen (2014), Ben Gadd (2013), and Geoff Powter (2012).
The nine-day Festival will be held from October 28 through to November 5 and will feature 84 epic films (including World and North American premieres), live in-person events with adventurers, authors, photographers, and filmmakers sharing their inspiring stories, an expanded Festival Marketplace (including the new Rab stage hosting free presentations), happy hours with music, campfire conversations with special guests, downtown events and exhibitions, and much more!  
The Festival schedule is available to view online and tickets are on sale (tickets from $18 - $38, and $75 for all-day films). Tickets can be purchased online or at Banff Centre Box Office. 
Returning in 2023 – online films to watch from home (available in CAN/USA only). 
Online Film Passes: Early Bird pricing until October 16! 
Please visit banffcentre.ca/film-fest for more information.
If you'd like to provide media coverage of the 2023 Festival, please submit a media accreditation application form.
For more information or image requests, please contact:
Jess Elliott
Media and Communications
Banff Centre Mountain Film and Book Festival
107 Tunnel Mountain Drive
Banff, Alberta
T1L 1H5 
jess_elliott@banffcentre.ca
About Banff Centre Mountain Film and Book Festival: Created 48 years ago, Banff Centre Mountain Film and Book Festival has become the premier event of its kind in the world. The nine-day Festival hosted by Banff Centre for Arts and Creativity in Banff, Canada, showcases the world's best films, books and photographs on mountain subjects – climbing, culture, environment and natural history, exploration and adventure, wildlife, and sport – and attracts the biggest names in mountaineering, adventure filmmaking, and explorers as presenters and speakers. An international jury will also award over $40,000 in prizes for films and books submitted to this year's Festival competitions. banffmountainfestival.ca
Banff Centre Mountain Film and Book Festival Partners: The 2023 Banff Centre Mountain Film and Book Festival Presenting Partners are: Banff and Lake Louise Tourism and Rab. The Festival is also sponsored by BUFF®, Yeti, Oboz Footwear, Lowe Alpine, Lake Louise Ski Resort and Summer Gondola, Kicking Horse Coffee, World Expeditions, Happy Yak, Doña Paula, and KORE Outdoors.
About Banff Centre for Arts and Creativity: Founded in 1933, Banff Centre for Arts and Creativity is a learning organization built upon an extraordinary legacy of excellence in artistic and creative development. What started as a single course in drama has grown to become the global organization leading in arts, culture, and creativity across dozens of disciplines. From our home on Treaty 7 territory in the stunning Canadian Rocky Mountains, Banff Centre for Arts and Creativity aims to inspire everyone who attends our campus – artists, leaders, and thinkers – to unleash their creative potential and realize their unique contribution to society through cross-disciplinary learning opportunities, world-class performances, and public outreach. banffcentre.ca