Banff Centre for Arts and Creativity celebrates National Indigenous Peoples Day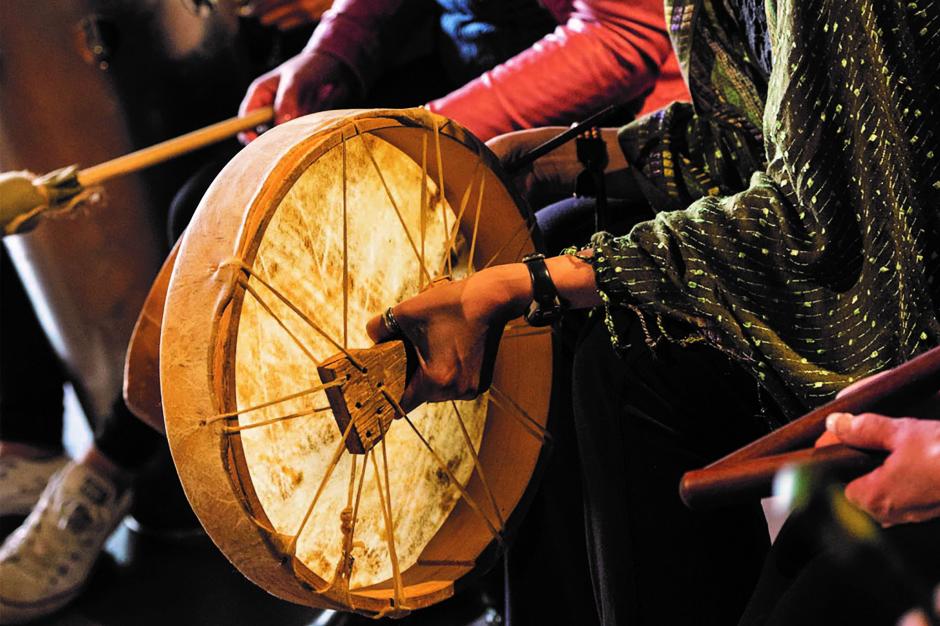 BANFF, AB, May 28, 2018 – Banff Centre for Arts and Creativity is proud to celebrate the history, cultures, and traditions of Canada's Indigenous Peoples with multiple rich and unique public events immersed in arts and culture on National Indigenous Peoples Day. Events are free, open to all, and will be held at Banff Centre on Thursday, June 21, 2018. 
"We stand on the traditional territories of the people of the Treaty 7 region, the Stoney Nakoda, the Blackfoot confederacy, and the Dene Tsuut'ina. It is also home to Métis Nation of Alberta, Region III. In recognition of the First Nations and Métis on whose land we reside, we celebrate the resilience of all Indigenous Peoples in the past, present, and future generations. Happy National Indigenous Peoples Day! I welcome you to join us in celebration of our Culture, our Leadership and our Arts!" says Reneltta Arluk, Director of Indigenous Arts at Banff Centre.
Walter Phillips Gallery, Paul D. Fleck Library and Archives Tour
Walter Phillips Gallery | 5:30 p.m.
Experience a special Gallery, Library and Archives tour as staff lead you through the exhibits, displays, and special selections highlighting Treaty 7 and Indigenous alumni at Banff Centre. 
URBAN NDN Film Night
Max Bell Auditorium | 6:30 p.m. 
Celebrate persistence and self-determination through films by artists living in Southern Alberta, including Sui-Taa-Kii (Danielle Black), Dan Cardinal McCartney, Jessie Short, as well as members of the Stoney Nakoda Audio Visual Club, Kes Lefthand and Jarret Twoyoungmen. This film screening is curated by Jade Nasogaluak Carpenter. Following the films will be a panel discussion and question and answer with the filmmakers. All films are 14+. Light refreshments will be served.
Medicine Walk led by Brenda Holder
Max Bell Building Lobby | 7 p.m.
Learn, see, and experience this landscape while celebrating National Indigenous Peoples Day. Join esteemed traditional Métis guide Brenda Holder to experience a Medicine Walk through Banff Centre's home on Sacred Guardian Buffalo Mountain. All ages welcome.
Concert with Dale Mac
Telus Studio | 7:30 p.m. 
Dale Mac (McArthur), Banff Centre alumni, and Indigenous songwriter and Blues/Roots/Rock guitarist from the White Bear First Nation,  joins bass guitarist Todd Wakefield for an evening concert in the Telus Studio. Light refreshments with be served. All ages welcome.
The National Indigenous Peoples Day Celebration is part of Banff Centre's public programming, which gives program participants, schools, and members of the public opportunities in arts and creativity. The programming rewards curiosity and connects individuals with art in a way that instigates dialogue and helps participants derive greater meaning from the arts.
The celebration is made possible in part by the Government of Canada. 
Banff Centre for Arts and Creativity is located on the lands of Treaty 7 territory. We acknowledge the past, present, and future generations of Stoney Nakoda, Blackfoot, and Tsuut'ina Nations who help us steward this land, as well as honour and celebrate this place.
For more information about the National Indigenous Peoples Day Celebration at Banff Centre, visit banffcentre.ca/national-indigenous-peoples-day-celebration 
About Banff Centre for Arts and Creativity: Founded in 1933, Banff Centre for Arts and Creativity is a learning organization built upon an extraordinary legacy of excellence in artistic and creative development. What started as a single course in drama has grown to become the global organization leading in arts, culture, and creativity across dozens of disciplines. From our home in the stunning Canadian Rocky Mountains, Banff Centre for Arts and Creativity aims to inspire everyone who attends our campus – artists, leaders, and thinkers – to unleash their creative potential and realize their unique contribution to society through cross-disciplinary learning opportunities, world-class performances, and public outreach. In 2018, Banff Centre celebrates 85 years of creative practice. banffcentre.ca