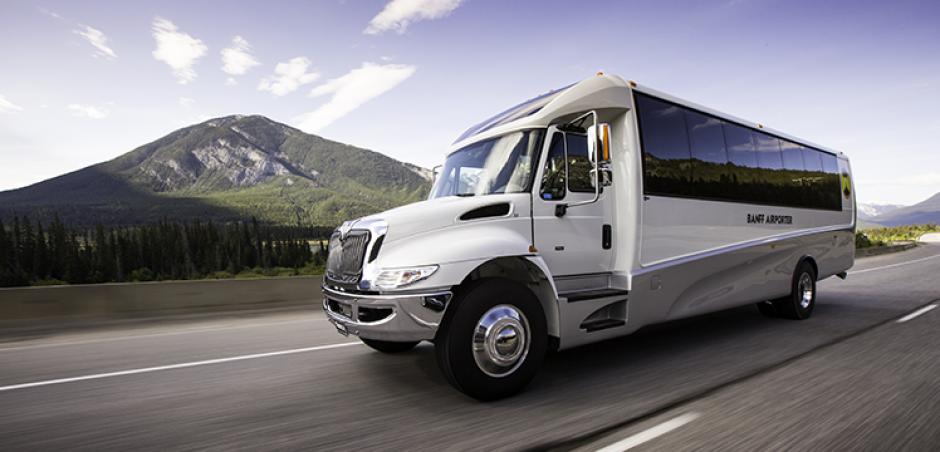 Airport Transportation
Banff Airporter is a proud supporter of Banff Centre Mountain Film and Book Festival. Locally owned and operated, Banff Airporter is the official airport shuttle provider for Banff Centre, providing convenient door-to-door shuttle service from the airport in Calgary to your hotel in Banff. Book your 25% discount at www.banffairporter.com/filmfest or, call 1.888.449.2901 and identify yourself as a Festival guest.
Park Downtown: Free In-Town Shuttles
Once you're in Banff, getting around is easy! Take advantage of our FREE shuttle service between downtown Banff hotels and the Festival venue at Banff Centre. 
Express Shuttle from Mount Royal Hotel 
(Behind Mount Royal Hotel, 138 Banff Avenue)
 Running every 10-15 minutes.
Fri Nov 1:   6 p.m. – 11:30 p.m.
Sat Nov 2:  7:30 a.m. – 2 p.m., and 5 p.m. – end of show      
Sun Nov 3:  7:30 a.m. – 2 p.m., and 5 p.m. – end of show 
Visit Banff Parking to find out about parking locations in Banff. 
Arrive early to get a spot in the FREE all-day downtown Festival parking lot next to the Banff Fire Hall at 201 Beaver St. A festival ticket is required to park here. From Festival Parking to Banff Centre for Arts and Creativity walk (10 Minutes) or catch the free non-stop festival express shuttle.
Free Festival Shuttles from Banff Hotels
Fri Nov 1:   6:30 p.m. – 10 p.m.
Sat Nov 2:  7:30 a.m. – 2 p.m., and 5 p.m. – end of show
Sun Nov 3:  7:30 a.m. – 2 p.m., and 5 p.m. – end of show
 
1. Depart Rundlestone Lodge  :00 | :30
2. Depart Fox Hotel & Suites  :05 | :35
3. Depart Elk & Avenue Hotel  :10 | :40
4. Depart parking ot beside Banff Fire Hall :15 | :45
5. Arrive at Banff Centre Eric Harvie Theatre :20 | :50
6. Depart Eric Harvie Theatre for downtown hotels  :25 | :55 
Also Available: Non-stop Express Shuttle between Festival parking (parking lot beside Banff Fire Hall, 201 Beaver St.) and Eric Harvie Theatre.
We thank our valued partner Banff Airporter for their support of the Banff Mountain Film and Book Festival.
ROAM BUS between downtown Banff and Banff Centre
Bbus route 7 to Banff Centre from downtown Banff departs every 30 minutes between 7 and 10 AM and again between 4 and 7:30 PM. The fares for Route 7 are $2.00 for one-way.