Banff International Workshop in Jazz & Creative Music | House Program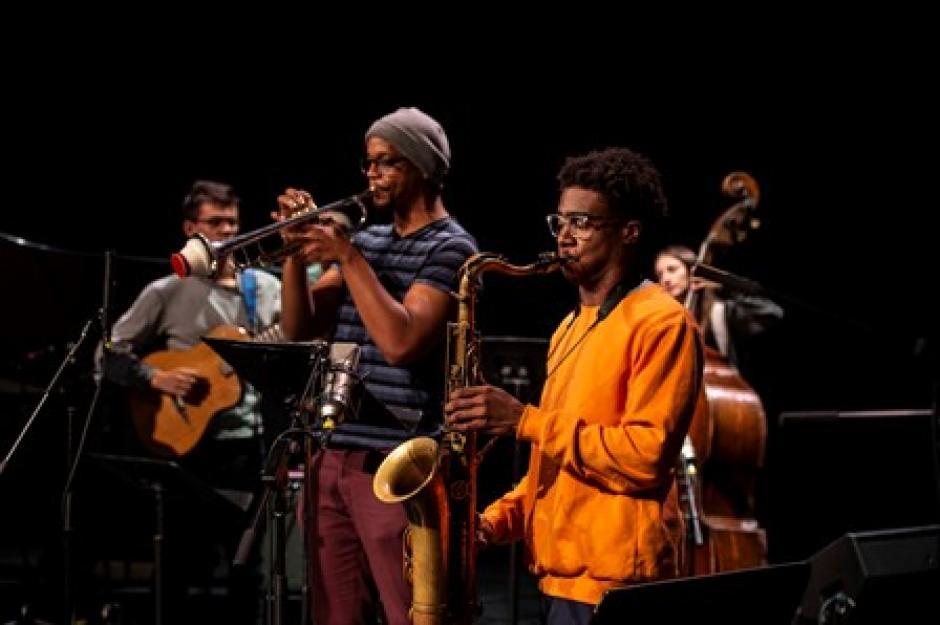 About the Program
This three-week program brings together emerging artists from around the world to work and study with Co-Artistic Directors Vijay Iyer and Tyshawn Sorey, as well as internationally acclaimed guest mentors. The goal is to learn, converse, build, experiment, refine, and transform — to reimagine the state of the art. This program is one of the most intensive that Banff Centre offers, and continues our 40-year history of incredible jazz exploration.
Concerts
Creative Music Cabarets
Thursday, August 8
Friday, August 9
Tuesday, August 13
Wednesday, August 14
Thursday, August 15
Friday, August 16
Tuesday, August 20
Wednesday, August 21
Jazz and Creative Music Ensemble Showcase
Saturday August 10
This concert is dedicated in memory of Denis Jackson
Friday August 23
This concert is dedicated in loving memory of Bruce McKinnon (1974–2007), a truly inspirational person, who attended Banff Centre in 2001 and 2002 as a participant in the Banff International Workshop in Jazz and Creative Music and pursued his passions for jazz and education as a pianist-composer teacher in New York City. The Bruce McKinnon Memorial Endowment Fund was established in 2007 to support special, innovative opportunities for Jazz program participants.
Tyshawn Sorey's Autoschediasms for Creative Orchestra
Message from Artistic Director
Welcome
The International Workshop in Jazz and Creative Music continues an ongoing tradition of immersive music-making at the Banff Centre. In the more than four decades since its founding by Oscar Peterson, this program has convened musicians from around the world to study, converse, build, experiment, refine, and transform: to reimagine the state of the art. Our goal is to help emerging musicians become composer-performers of consequence in the world, with an emphasis on creativity, community, and collaboration.
Why "Jazz and Creative Music"? The music called "jazz" resulted from the innovations of African American artists in American cities in the twentieth century. While this music has been adopted around the world, its origins in Black culture determined the original "how" and "why" of it: the importance of rhythm, interaction, listening, and spontaneous expression, but also an awareness of the oppressive circumstances, the lived experience of anti-Black racism, against which its originators sought to pursue such radical creativity. (In our troubled times of increasing white supremacist violence, we have all the more to learn from this history of courageous, defiant collective expression.)
The contrasting term "creative music" has been in common use among its practitioners for more than half a century. First introduced by African American musicians in the 1960s to resist the commodifying, reductive effects of "the j-word," the name creative music highlights the role of the creative process in the moment of performance, and asserts a mobility across genres and systems. In our program title we hold these two terms next to each other; together they tell a hundred-year-long story.
Having said all that, we assure you that this music is for everyone. There is nothing special you need to know to find something in our music-making that calls to you. Some sounds you hear may feel familiar, and others might seem wildly speculative; but everything we offer is made with commitment, care, and sensitivity.
This is my seventh year as Artistic Director of our workshop, and my second with the brilliant Tyshawn Sorey as Co-Artistic Director. We have a new stellar team of visiting faculty artists each week, spanning generations, communities, and continents. Our participants continue to represent a similar diversity of cultural, musical, and aesthetic backgrounds. All of these individuals have in common a passion for their work, a commitment to excellence, and the ability to communicate and inspire.
The highlights of the program are the opportunities to share our music with audiences like you. Thank you for joining us for these evenings of musical creativity and discovery.
Enjoy our 2019 season!
Vijay Iyer
Franklin D. and Florence Rosenblatt Professor of the Arts, Harvard University
TD Bank Group is the generous lead supporter of the
Banff International Workshop in Jazz & Creative Music.