Jenny Belzberg Theatre Grand Opening Weekend
Banff Centre's Jenny Belzberg Theatre Grand Opening Weekend will be an unforgettable two days of world-class performances in celebration of the new theatre and the hundreds of talented artists and patrons who will benefit from the revitalization.
Saturday, May 7 will feature a private reception and dinner for 275 guests, along with a grand opening concert in the new Jenny Belzberg Theatre for 600 guests. The evening will feature performances by talented artists from Alberta and the rest of Canada. Following the concert, invited guests will join the performers at a private post-performance reception.
The Jenny Belzberg Theatre Grand Opening Weekend will feature a free concert specially curated for the community on Sunday, May 8. The afternoon concert and open house will be a great opportunity for the public to experience the newly revitalized space that is home to many Banff community concerts and events.
There are a limited number of Jenny Belzberg Theatre Grand Opening Weekend packages available for $1,000 per guest. The weekend packages include the Saturday evening reception, dinner, concert, post-performance reception, and Sunday community concert. If available, single public concert tickets will be available in spring 2022. Onsite accommodation is available.
Demand for tickets remains high, to enquire or to join the waiting list for the weekend package tickets, please feel free to contact Jennifer Knorr at RSVPDevelopment@banffcentre.ca for additional information.
*Banff Centre is participating in the Government of Alberta's Restrictions Exemption Program, guests born in 2009 or earlier will be required to provide proof of vaccination, a negative PCR or rapid COVID-19 test result taken within 72 hours, or an original medical exemption letter. All individuals 18 years or older must also produce valid personal identification, indicating the name of the holder and date of birth.
Guests staying on campus will be able to use their bedroom key as they will have been pre-screened upon check-in at the Professional Development Centre. Learn more about Banff Centre's COVID-19 on-campus measure here.
Jenny Belzberg Theatre Grand Opening Weekend Sponsors and Supporters
Thank you to the following generous Jenny Belzberg Theatre Grand Opening Weekend Sponsors and Supporters.
Lead Artistic Supporter
Sir Jack Lyons Charitable Trust
Supporter
Alvin and Mona Libin Foundation
SOMAR Family Foundation (Sandy and Larry Martin)
Jenny Belzberg Theatre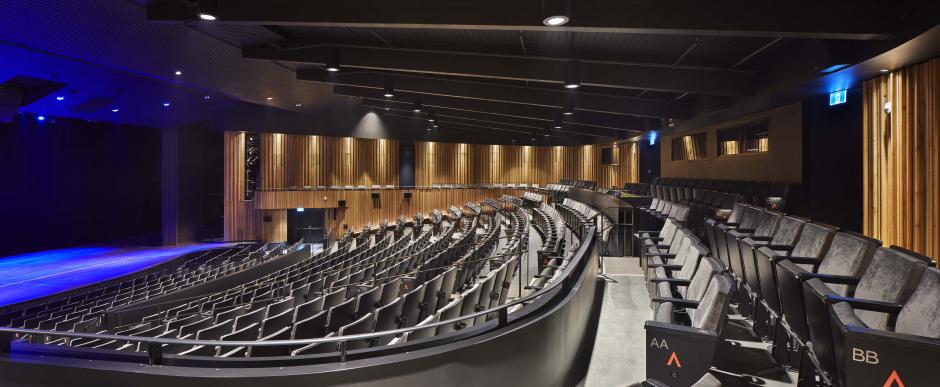 Photo credit: Tom Arban Photography
The Jenny Belzberg Theatre is a venue dedicated to educating and inspiring the next generation of performing artists who participate in education, performance, and training programs on our campus. The revitalization of the Banff Centre's largest theatre and its elegant new design by KPMB Architects was made possible through the generosity of Jenny Belzberg and her family.
Jenny Belzberg Future Fund
A very special thank you to the generous Jenny Belzberg Future Fund supporters who have established a new fund in honour of Jenny Belzberg and her many contributions to artists over the years. This fund will help set the stage for artists in the future to enjoy performing on the stage of the Jenny Belzberg Theatre.
Supporters
John C. Armstrong, Q.C.
Barbara and Greg Belzberg
Gavin Berger and Craig Berggren
David and Leslie Bissett
Kim and Peter Cohos
Copez Properties Ltd.
John Evison and Monica Sloan
Volker Gruschow
Ron Holdsworth and Connie Hunt
Steve Kaganov
Liz and Ross Kaplan
Lynne Kearns
Stephen Kennedy
Judith Kilbourne
Susie and Vahan Kololian
M. Ann McCaig
Ruth and Gary Ramsden-Wood
Rozsa Foundation
Kathleen and Richard Sendall
SOMAR Family Foundation (Sandy and Larry Martin)
James M. Stanford
The David and Rose Zivot Family Foundation
Volunteer Committee
Thank you to the Jenny Belzberg Future Fund volunteer committee for their dedicated support on this new initiative.
Michèle Stanners, Chair
Gertrude Cohos
Sandy Martin
Mary Rozsa de Coquet
Carol Ryder
Jim Stanford
*as of December 1, 2021