Applications are now open for Spring/Summer 2024 programs. For Fall 2024 progams onwards you can sign up to the Newsletter to receive an alert when applications open.
The Application and Payment systems will be closed from the 20th December to 3rd January as part of the Institutional Holiday Closure. SlideRoom will remain open for portfolio submissions.
Questions please contact the Admissions Office or call 403 762 6180.
Jazz & Sonic Arts: GATHER LISTEN HEAR
Performing Arts - Music | In-Person
Program Information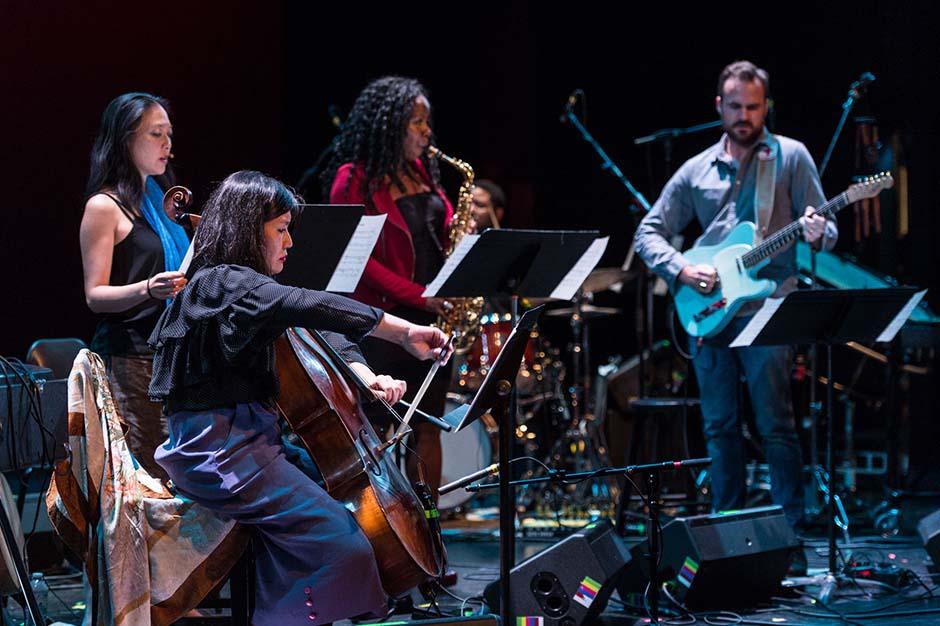 Overview  
Jazz and Sonic Arts engage with sound in innovative ways, using improvisation, experimentation, and technology to expand sonic possibilities of music. Both are ever-evolving and diverse genres which create a powerful synergy to inspire creativity for multidimensional transcendent artistic experiences. Jazz and Sonic Arts are also catalysts for cultural dialogue, empowerment, positive societal change, and ecological awareness.
 
This three-week program brings together early career artists from around the world to work with exciting, internationally celebrated performers, creators, and mentors that have made significant contributions to artistic innovation in Jazz and Sonic Arts. The goal is to build community that feels the inspirational energy of making creative music in an immersive, inclusive and transformative learning environment. 
Priorities include conversation, listening, collaboration, experimentation, innovation, and fearless explorations of new sonic territories for artistic evolution and positive transformation. 
This program will culminate in a four-day summit GATHER LISTEN HEAR: an internationally significant multidisciplinary artistic gathering, suite of public events, collaborative concerts to share works in progress and deep pedagogical engagements across Indigenous Arts, Jazz & Sonic Arts, and the Walter Phillips Gallery.
 
What does the program offer?
One-on-one mentorship will enhance instrumental or vocal virtuosity and confidence, improvisation, composition, and experimental skills. Participants will be encouraged to explore their own artistic vision and develop their unique creative voice to engage critically with the world and mobilize the power of music for the betterment of society and a deeper connection with our planet. 
Emphasis on collaboration and community building will foster joy, innovative approaches to creative music making and expression, skills in ensemble communication, and interaction with peers and mentors from diverse musical backgrounds. Focus on sound and creative practices with a relationship to land will deepen our environmental consciousness by exploring the sonic landscapes of the natural world.
Faculty led workshops on aspects of the creative process, curation, production, and music industry will support a wholistic approach to advance the full unique artistic and career potential of participants.
You will have 24hr access to studios to work on your projects. Larger studios will be available for group work. Instruments including pianos, keyboards, harpsichord, fortepiano, percussion instruments, concert harp, string instruments and sound equipment for practice, explorations and self-recordings in individual studios may also be available upon request. Public performances will be recorded for your archival use.
 
Who should apply?
This program is open to national and international post-secondary students, or early career artists already at an advanced level of accomplishment and with a well-documented record of musical exploration, performance and/or creation in Jazz or Sonic Arts. 
We welcome musicians of all ages (18+), backgrounds, gender identities and expressions to apply. Artists from historically underrepresented and equity seeking groups are especially welcome
 
What's Included
Using a credit-based system to dine on campus, our flexible meal plans allow you to select meals according to your own needs during your stay. Banff Centre can accommodate most dietary requests. 
The Full Flex meal plan is calculated at $70 credit per day, equivalent to breakfast, lunch and dinner at our Buffet service.
Single Room with private en-suite bathroom.
Create in the privacy of one of our specialized studios.
Professionally stage managed performance opportunities will be offered during the residency program. Self-directed performance opportunities will also be available during the residency. Performance opportunities will be managed appropriately based on the Covid protocols in place at the time, for the safety of performers and audience members.
Demo recordings: you'll have the option to record up to 30 minutes of music at a reduced rate as part of your program. These recordings are intended to be used for auditions or personal promotion, not for commercial purposes.
Studio recordings: commercial recordings can also be integrated into a music residency at normal rates.
Group seminars and workshops with faculty.
Fees & Financial Assistance
Application fee: $65 for individuals or groups ($35 for applicants who identify as Indigenous).
Application Fees are non-refundable.
Individual group members must pay an additional registration fee of $35 on acceptance. 
*Scholarship of 100% is available and will be applied to cover tuition, and 50% is available to offset meals and accommodation costs.
If you would like to be considered, please complete the Financial Aid section when uploading your supporting materials.
Banff Centre will issue official tax receipts for eligible tuition fees and financial assistance and awards as required by the Income Tax Act. You will receive a T2202 (Tuition and Enrolment Certificate) for eligible tuition fees paid and a T4A (Statement of Pension, Retirement, Annuity, and Other Income) for applicable financial assistance and awards.
Help fund your experience at Banff Centre. View a compiled list of national and international opportunities here.
How to Apply
Additional Information
If you are applying as an individual, you must complete both the online application form (including $65 processing fee) and a SlideRoom application.
If you are applying as an ensemble, the ensemble leader must complete both the online application form (including $65 processing fee) and a SlideRoom application. Please submit only one SlideRoom application per group. There will be a $35 registration fee of each member upon acceptance to the program.
Adjudication
Participants are selected by impartial adjudicators on the basis of their submitted material. In addition to artistic merit and technical feasibility, consideration will be given to the likelihood that the artist's work will benefit from the program.
Applicants will be notified of their status as soon as adjudication is complete.
All programs, faculty, dates, fees, and offers of financial assistance are subject to change. Program fee is subject to applicable taxes. Non-refundable fees and deposits will be retained upon cancellation. Any other fees are refunded at the discretion of the Banff Centre. The application deadline is 11:59 p.m. Mountain Standard Time.