Applications are now open for Spring/Summer 2024 programs. For Fall 2024 progams onwards you can sign up to the Newsletter to receive an alert when applications open.
The Application and Payment systems will be closed from the 20th December to 3rd January as part of the Institutional Holiday Closure. SlideRoom will remain open for portfolio submissions.
Questions please contact the Admissions Office or call 403 762 6180.
Visual Arts: Banff Artist in Residence - Spring 2024
Program Information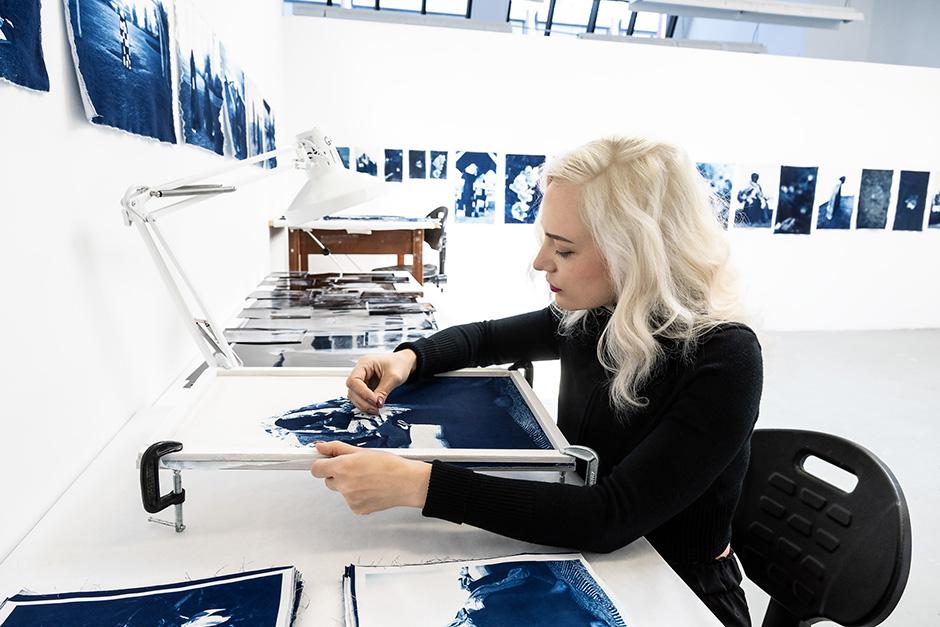 Overview
The Banff Artist in Residence program is designed for visual artists to focus on their practice in a supportive learning environment. Over five weeks, participants are encouraged to self-direct their research and time, as well as cultivate new directions in their work. The experience of artists in residence is further supported through individual studio visits with guest faculty and dialogue amongst peers.
The program encourages experimentation and risk-taking via access to shared production facilities and knowledgeable staff who are available to provide technical support and assistance. 
What does the program offer?
The time and space to delve deeply into your practice while away from the constraints of everyday life. Participants are provided with a studio, accessible 24 hours a day, as well as targeted access to our extensive facilities. Facility access is based on availability of facilitators, and priority access is given to those requesting their use in their initial application.
In addition, you will have the opportunity to build connections, create networks, and share your work with other artists in residence and the public.
Who should apply?
This residency is for visual artists who have completed formal education or training at the post-secondary level, or who have equivalent experience and recognition from their peers. Priority will be given to applicants who have not attended a Visual Arts residency at Banff Centre with the last year.
This program is designed for participation over the entire program period. Variable dates will not be considered. Collaborative duos are welcome to apply. Groups larger than two people will not be considered.
Banff Centre invites applicants from anywhere in the world, and artists of all ages (18+), backgrounds, gender identities, and expressions.
 
Visual Arts: Banff Artist in Residence - Spring 2024 is generously supported by:
Gail and Stephen A. Jarislowsky Outstanding Artist Program Endowment
Fees & Financial Assistance
Application fee: $65 for individuals or groups ($35 for applicants who identify as Indigenous).
Application Fees are non-refundable.
Individual group members must pay an additional registration fee of $35 on acceptance.
*Scholarship of 100% is available and will be applied to cover tuition, and 50% is available to offset meals and accommodation costs.
If you would like to be considered, please complete the Financial Aid section when uploading your supporting materials. 
 
Banff Centre will issue official tax receipts for eligible tuition fees and financial assistance and awards as required by the Income Tax Act. You will receive a T2202 (Tuition and Enrolment Certificate) for eligible tuition fees paid and a T4A (Statement of Pension, Retirement, Annuity, and Other Income) for applicable financial assistance and awards.
 
Help fund your experience at Banff Centre. View a compiled list of national and international opportunities here.
How to Apply
Note for Collectives: A group leader must complete a single application and upload supporting materials on behalf of the whole group. Visual support materials should be provided for the collective; individual resumes and bios should be provided for each member.  Groups no larger than two people will be considered for this program.
Adjudication
Participants are selected by impartial adjudicators on the basis of their submitted material. In addition to artistic merit, consideration will be given to the likelihood that the artist's work and career will benefit from the program. Project feasibility and capacity of Banff Centre are also considered. Banff Centre's values are reflected in program development and delivery.
Applicants will be notified as soon as adjudication is complete.
International Applicants
Banff Centre welcomes domestic and international applicants for this program. Please note, Banff Centre programs do not meet Canadian Student Visa eligibility requirements, you must obtain a Visitor Visa to enter Canada. Accepted individuals are responsible for identifying and complying with the immigration requirements to enter Canada as a visitor from their country of origin. Current wait times to receive a visa are much longer than normal, so applicants who require a Visitor Visa should check the current expected processing times prior to applying.
Eligibility
Applicants must be ages 18+ at the time of the program start date.
All programs, faculty, dates, fees, and offers of financial assistance are subject to change. Program fee is subject to applicable taxes. Non-refundable fees and deposits will be retained upon cancellation. Any other fees are refunded at the discretion of the Banff Centre. The application deadline is 11:59 p.m. Mountain Standard Time.