Evolution: Classical 2022 Participant and Faculty Program (Jul 5)
Participants and Faculty from Evolution: Classical 2022 Programming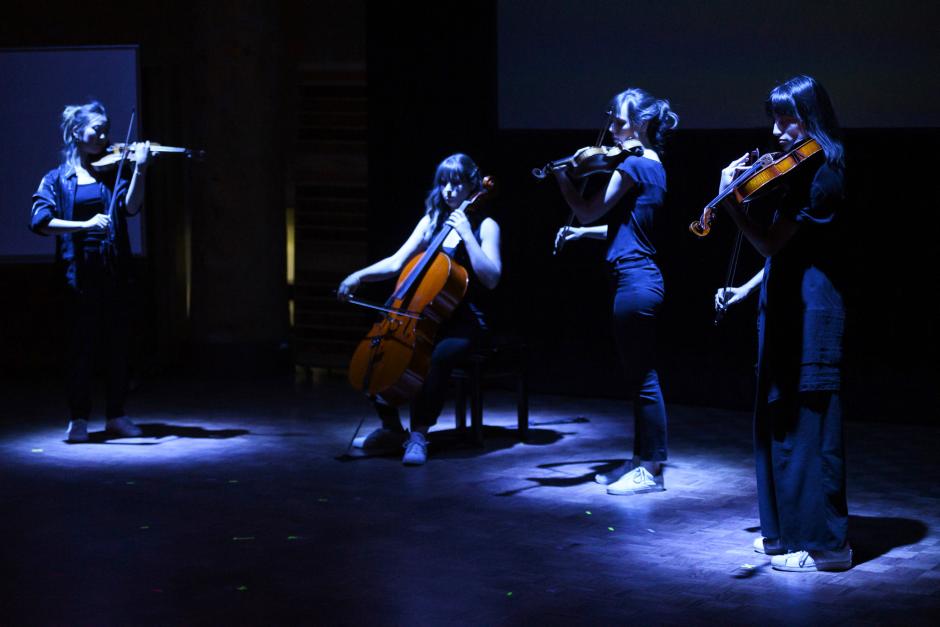 Message from Artistic Director
We are so pleased to welcome you back to Sacred Buffalo Guardian Mountain, for summer performances at Banff Centre.
It is with great excitement that summer music residency programs return to Banff National Park this year, under the leadership of Annalee, Jamie and Roman from Canada's renowned Gryphon Trio. While the Covid-19 pandemic has impacted artists and arts organizations across the land, the Gryphon Trio and their supporting faculty and staff have expertly convened an esteemed, international cohort that will include artistic exchange, collaboration, shop talk, concerts, and no doubt some mischief.
We thank our many supporters who help make it possible for these artists to benefit from a rich Banff Centre experience. If we ever took arts crowds for granted before Covid prevented us from gathering, we never will again in our lifetimes.
Lastly: we hope you can pardon the construction outside this summer as the redesigned pathway takes shape up St. Julien Road to the campus. It's about to look better than ever!
~ Nathan Medd, Managing Director, Performing Arts
About the Program
Evolution: Classical is an innovative artist development program for instrumentalists and vocalists who are in the early stages of career development and are interested in exploring and expanding the traditions and conventions that define their artistic practice. Led by the Gryphon Trio, Evolution: Classical brings participants together with international performing artists, thought leaders and creative innovators to collectively explore the challenges and choices that emerging, entrepreneurial artists encounter as they make the decisions that determine their way forward. 
This house program highlights the artists and faculty who are here for the duration of the Evolution: Classical program and concerts. To find out specific program repetoire and curation, please check out each individual concert event. 
Tuesday, July 5 in the Margaret Greenham Theatre:
Lighting Design — Hugh Conacher
Artistic Producer — Caroline Hollway
Placing (2020) | Naomi Epstein — Else If Else; Zoe Markle, double bass; Nolan Ehlers, percussion; Benjamin Portzen, piano
Interlude | Else If Else 
Biloxi Anapanasati (2021) | John Supko — Else If Else (World Premiere)
Darkroom Processing: 吃飯了嗎? /밥 먹었니? (2022) | Impromptuo — Impromptuo; Joey Chang, piano, co-composer; Katherine Kyu Hyeon Lim, violin, co-composer
Darkroom Processing: 吃飯了嗎?/밥 먹었니? is an original composition premiere. The work is a self-created silent film that is played alongside original music, heavily utilizing improvisation, to tell the film's story. 
We focus the work on scenes of New York City and friends in our circle to ultimately empower our identified community, centering the people who we care about the most. The phrases in Mandarin and Korean (which translate to "have you eaten yet?" in English) are customary greetings that signify care for another person which forms the heart of our performance.
In narrative motion picture, music is usually designed as an adornment to a director's film. In this concert, we will challenge the relation of music to its score and the picture, as through this work, the film will arguably be the score instead. 
 
Biolumy (2022) | Mixtape — Mixtape; Michael Siess, violin; Misha Vayman, violin; Juan-Salvador Carrasco, cello; Nathan Ben-Yehuda, keyboards
7 hellos (2022) | Mixtape — Mixtape
Nimbi/Biostep (2022) | Mixtape — Mixtape
Away from Here (2022) | Mixtape — Mixtape
Catavango (2022) | Mixtape — Mixtape
For further information please visit: 
Repertoire from previous concerts can be found on the corresponding event page. 
June 23 - Evolution: Classical - Sounds like Stories
June 28 - Evolution: Classical - Transformations
July 4 - KöNG Duo, Ollie Hawker, Madeline Hildebrand
This program is generously supported by the Maria Francisca Josepha Brouwer Fund for Dutch Artists, Alice & Betty Schultz Endowment Fund, Cyril & Elizabeth Challice Teaching Fellowships in Music, Yolande Freeze Master Artists in Music Fund, Peter & Sheila Bentley Distinguished Guest Artist, and The Gryphon Trio.
Additional Messages
Welcome!
We are thrilled that you will joining us this summer for the second edition of Banff Centre Evolution: Classical. This unique program was launched last summer and took place entirely on-line in two sessions. It was a remarkable experience that resulted in the establishment of a very inspired and engaged community of participant and mentor artists that collectively explored classical music curation and concert presentation. Evolution: Classical is about harnessing and honing the resonance that you create as an artist.
The Evolution: Classical program brought us all together for three weeks on the Banff Centre campus. In the context of this beautiful setting, we work toward testing and adopting new ideas while collaborating with other artists on presenting many wonderful evenings of concert programming.
If this is your first time venturing into Banff Centre summer music, welcome. We are thrilled to have you join us for this golden summer at the Banff Centre!
~ Annalee Patipatanakoon, Roman Borys, Jamie Parker — Directors, Banff Centre Summer Music Classical Programming
About the Company
Production Staff:
Brendan Briceland - Head of Projection
Brett Rayner - Head Stage Carpenter
Raj Rathore - Assistant Head Stage Carpenter
Lyle Fish - Head of Sound
Charles Culver - Assistant Head of Sound
Matt Flawn - Head of Lighting
Darrell Shaw - Assistant Head of Lighting
Albert Picknell - Head Piano Technician
Henry Ng - Audio and Music Technician
Genevieve Nevin-Jones - Production Coordinator
Chaz Anderson - Production Coordinator
Samantha Hindle - Technical Director
Woody MacPhail - Senior Technical Producer
James Clemens-Seely - Senior Recording Engineer
Jeff Kynoch - Recording Engineer
Jen Chiasson - Lead Video Technician
Darcy Locke - Maintenance Technologist Video
Raffi Tchalikian - Technical Support
Nathan Medd - Managing Director, Performing Arts
Jake Tkaczyk - Program Manager, Performing Arts
Nate Spasiuk - Program Delivery Specialist