Applications are now open for Spring/Summer 2024 programs. For Fall 2024 progams onwards you can sign up to the Newsletter to receive an alert when applications open.
The Application and Payment systems will be closed from the 20th December to 3rd January as part of the Institutional Holiday Closure. SlideRoom will remain open for portfolio submissions.
Questions please contact the Admissions Office or call 403 762 6180.
Mountain and Wilderness Writing
Program Information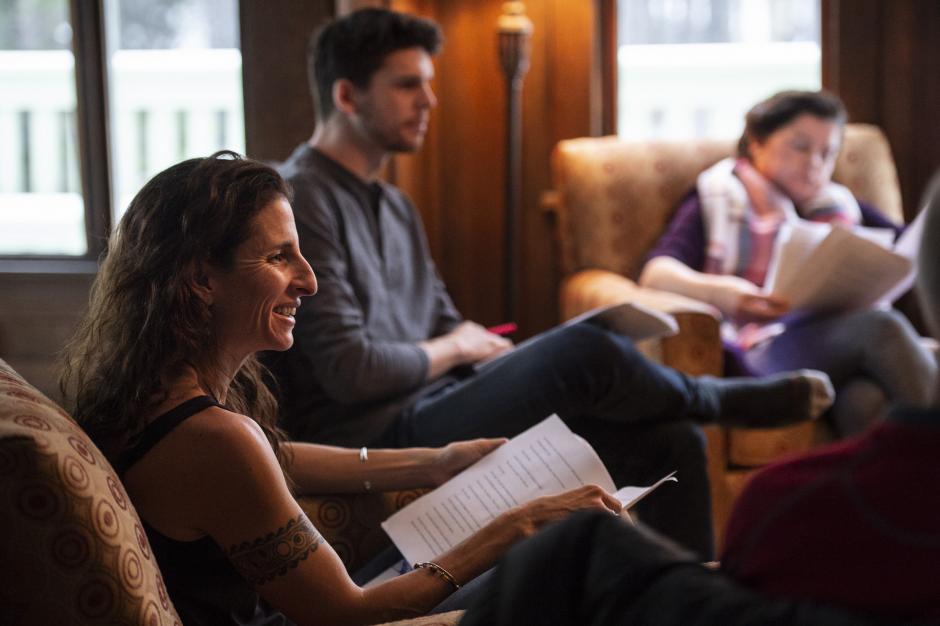 Overview
Mountain and Wilderness Writing (MWW) is a three-week residency for nine writers working in any genre (fiction, nonfiction, journalism, or poetry), on mountain narratives, environmental journalism, stories of wilderness adventure, or projects with an environmental theme. 
The interior journey of exploration and the psychology of extreme endeavours are as much a focus as the physical accomplishments involved, and there is a strong emphasis on literary quality. 
Writers will enjoy dedicated, uninterrupted writing time in a spectacular mountain setting, and the communality of a small group of peers from around the world under the guidance of three experienced editors.  
This program overlaps with the Banff Centre Mountain Film and Book Festival, and guest artists of the MWW program (visiting authors, editors, or agents) offer further enrichment and inspiration. Many projects developed in the MWW program have gone on to publication, and several books by alumni have won international awards. 
What does the program offer?
Participants will work in the peace and isolation of Banff Centre's Leighton Artists Studios and consult on an individual basis with three faculty editors: Marni Jackson, an award-winning journalist, author, and editor; Harley Rustad, an editor at The Walrus magazine and fellow of the Royal Geographical Society; and Tony Whittome, for many years an Editorial Director of Random House U.K.
Prior to the start of the residency, writers will submit 5,000 to 10,000 words from their projects. Intensive editing, both conceptual and detailed, of these or other passages forms the foundation of the program, although longer texts can be discussed.
During the program, participants will take part in twice-weekly, two-hour workshops under the guidance of the editors, where participants will critique and support each other's work with detailed attention to texts of 20 pages or less per workshop.
Writers will also have access to the Banff Centre Mountain Film and Book Festival, which attracts accomplished filmmakers and authors from around the world. 
Who should apply?
Writers in all genres — fiction, nonfiction, poetry, essay, history, biography, and memoir — are encouraged to apply. We welcome all writers (emerging and established), from all backgrounds, as well as gender identities and expressions.
Fees & Financial Assistance
Application Fee: $65
*Financial Aid up to approximately 70% is available for this program. 
If you would like to be considered, please complete the Financial Aid section when uploading your supporting materials to Slideroom.
Help fund your experience at Banff Centre. View a compiled list of national and international opportunities here. 
How to Apply
Mountain and Wilderness Writing only accepts projects that are being written in English.  
Manuscript Development
Successful applicants will be asked to submit a draft or excerpt of their project before the program start date. The submission deadline and requirements will be sent directly by email, once successful applicants have confirmed their participation in the program.
Adjudication
Participants are selected by the faculty editors on the basis of their submitted material, its relevance to the program mandate, and the quality of the writing. 
All applicants will be notified of their status as soon as adjudication is complete.
Eligibility
Applicants will normally, but not necessarily, have published a body of work (in book-length form or substantial publication in magazines and/or anthologies) on some aspect of the mountain or wilderness experience. This can include fiction, memoir, biography, creative non-fiction, travel, adventure writing, or environmental journalism.
Project genres may include works of fiction, non-fiction, memoir, biography, or poetry on a topic in the area of mountain or wilderness culture.
All programs, faculty, dates, fees, and offers of financial assistance are subject to change. Program fee is subject to applicable taxes. Non-refundable fees and deposits will be retained upon cancellation. Any other fees are refunded at the discretion of the Banff Centre. The application deadline is 11:59 p.m. Mountain Standard Time.