Applications are now open for Spring/Summer 2024 programs. For Fall 2024 progams onwards you can sign up to the Newsletter to receive an alert when applications open.
The Application and Payment systems will be closed from the 20th December to 3rd January as part of the Institutional Holiday Closure. SlideRoom will remain open for portfolio submissions.
Questions please contact the Admissions Office or call 403 762 6180.
Evolution: Classical 2023
Performing Arts: Music | Online & In-Person
Program Information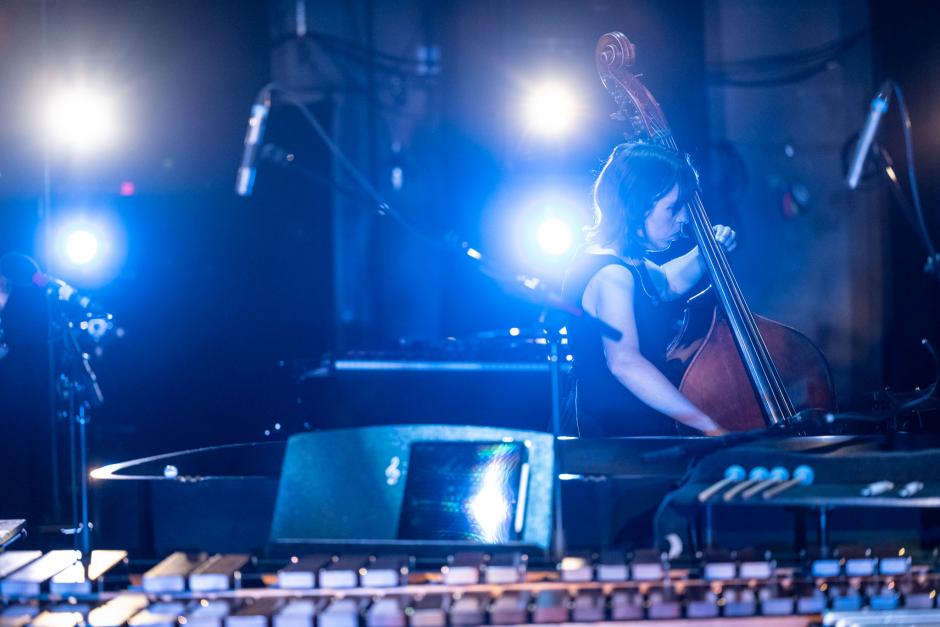 Overview
Evolution: Classical is a program for classically trained instrumentalists and vocalists interested in artistic development.  You will discover and cultivate new and authentic approaches to program curation, and hone the skills required to build an impactful and engaging artistic practice. The program provides a supportive, inclusive and inspiring environment for those working in both traditional ensembles and non-traditional collaborative entities.
This two-part hybrid program is centered on a concert curation and collaborative presentation process that allows you to bring greater depth, clarity, and authenticity to all of the components that make up the concert experience. This includes curation, event conceptualization and production, and audience engagement.
What does the program offer?
Led by the Gryphon Trio, Evolution: Classical brings participants together with international performing artists, thought leaders, and creative innovators. As a community they work towards creating a series of collaborative, curated final performances, and in the process explore the challenges and choices that musicians encounter as they continue to develop their artistic practice and pursue career advancement.
Evolution: Classical will unfold in two sessions, the first occurring online over two weeks, and the second taking place in residence at Banff Centre's performing arts facilities in Banff National Park. Applicants must be available to take part in both sessions in order to be considered for participation.
Session One online via Zoom: June 12 - 23, 2023
Over the course of five 90-minute group meetings and two 60-minute individual mentor sessions, you will have the opportunity to engage with mentors in a "talk and play" presentation of your proposed curations. The process is designed for peers and mentors to provide feedback that ensures preparedness for the on campus experience. 
Session Two on campus: July 31 - Aug 19, 2023
The on campus schedule will include daily group meetings, individual music and curation development coaching and performance opportunities. Sessions will focus on deep listening, collaboration, improvisation and movement, career development, public speaking, Right Relations, and diversity/equity/inclusion.
You will have 24hr access to studios, large studios will be available for group work and small individual spaces for private practice.
The program concludes with public concerts that include excerpts of individual entity curations as well as collectively conceived collaborative components. 
Who Should Apply?
This program is primarily designed for musicians with Conservatory/University Western Classical music training. Collaborative entities specializing in other music traditions and creative disciplines with at least one classically trained member are also welcome to apply. Although solo applications will be considered, applicant groups of two or more individuals will be given priority consideration.
We welcome musicians of all ages (18+), backgrounds, gender identities and expressions to apply. 
Click here to view the Evolution: Classical 2022 curations.
Itinerary
Session One online via Zoom: June 12 - 23, 2023
Five 90-minute group meetings
Two 60-minute individual mentor sessions
Session Two on campus: July 31 - Aug 19, 2023
Arrive on Campus: July 30, 2023
Daily group meetings
Individual music and curation development coaching and performance opportunities. 
24hr access to studios
Depart Campus: August 20, 2023
What's Included
Participants will explore the virtual online stage as a component of a long-term audience engagement strategy
Your program fee includes a single bedroom on the Banff Centre campus for the duration of your program.
Get connected with other artists on campus and focus on your projects in a creative environment while we take care of the day-to-day essentials.
Using a credit-based system to dine on campus, our flexible meal plans allow you to select meals according to your own needs during your stay.
The Full Flex meal plan includes $61.95 credit per day, equivalent to breakfast, lunch and dinner at our buffet service.
Enjoy special artist rates for ticketed performances or complimentary access to events.
Enrich your experience and get to know other artists on campus by taking advantage of the activities and support provided by our Participant Resources team.
The Paul D. Fleck Library and Archives - Current Services
The Library is delighted to support Banff Centre Participants, Artists, and Faculty with the following services:
Open hours:  9:30 am to 1 pm, Mondays, Wednesdays, and Fridays.
Access to collections, including program relevant books, scores, artists' books, recordings, periodicals, and object library.
Library accounts for borrowing materials.
Digital Library, on campus and remote access.
Library research assistance, by appointment.
Archives research, by appointment only.
Please email library@banffcentre.ca or archives@banffcentre.ca for more information or assistance.
Fees & Financial Assistance
Application Fees: $65 for individuals or groups. ($35 for applicants who identify as Indigenous)
Individual group members must pay an additional registration fee of $35 on acceptance. 
Financial Aid of 100% is available to cover tuition, and Financial Aid of 50% is available to offset food and accommodation costs
Fees listed above are per person. Application fees are not refundable.
Banff Centre will issue official tax receipts for eligible tuition fees and financial assistance and awards as required by the Income Tax Act. You will receive a T2202 (Tuition and Enrolment Certificate) for eligible tuition fees paid and a T4A (Statement of Pension, Retirement, Annuity, and Other Income) for applicable financial assistance and awards.
Help fund your experience at Banff Centre! View a compiled list of external national and international opportunities here. 
How to Apply
Additional Information
Applicants are required to submit a 45 minute concert curation proposal with their application. Applicants are encouraged to design curations that stretch beyond traditional Western Classical programming conventions. Although the inclusion of standard Western Classical repertoire is strongly encouraged, curations can feature any style of music that applicants are able to perform, including fragments and/or movements of larger works, arrangements and improvisations. Curations can also include non-musical elements such as poetry recitation, staging, lighting, amplification and projection. Please include full details in your concert proposal.
 
If you are applying as an individual, you must complete both the online application form (including $65 processing fee) and a SlideRoom application.
If you are applying as an ensemble, the ensemble leader must complete both the online application form (including $65 processing fee) and a SlideRoom application. Please submit only one SlideRoom application per group. There will be a $35 registration fee of each member upon acceptance to the program.
Adjudication
Please note shortlisted applicants may be invited to take part in a short Zoom interview in late March.
Adjudication is based on artistic merit, the potential impact of the program on artists' practice and careers, project feasibility, and the capacity of Banff Centre to help realize the project, and the project's fit with Banff Centre's values and strategic directions as described in its strategic plan. Banff Centre respects the need for artists to plan ahead for their visit; applicants will be notified as soon as adjudication is complete.
International Applicants
Banff Centre welcomes domestic and international applicants for this program. Please note, Banff Centre programs do not meet Canadian Student Visa eligibility requirements, you must obtain a Visitor Visa to enter Canada. Accepted individuals are responsible for identifying and complying with the immigration requirements to enter Canada as a visitor from their country of origin. Current wait times to receive a visa are much longer than normal, so applicants who require a Visitor Visa should check the current expected processing times prior to applying.
Eligibility
Applicants must be ages 18+ at the time of the program start date.
All programs, faculty, dates, fees, and offers of financial assistance are subject to change. Program fee is subject to applicable taxes. Non-refundable fees and deposits will be retained upon cancellation. Any other fees are refunded at the discretion of the Banff Centre. The application deadline is 11:59 p.m. Mountain Standard Time.