Applications are now open for Spring/Summer 2024 programs. For Fall 2024 progams onwards you can sign up to the Newsletter to receive an alert when applications open.
The Application and Payment systems will be closed from the 20th December to 3rd January as part of the Institutional Holiday Closure. SlideRoom will remain open for portfolio submissions.
Questions please contact the Admissions Office or call 403 762 6180.
Opera in the 21st Century: Don Giovanni
Opera | Ottawa and Banff | Singers, Director, & Repetiteur
Program Information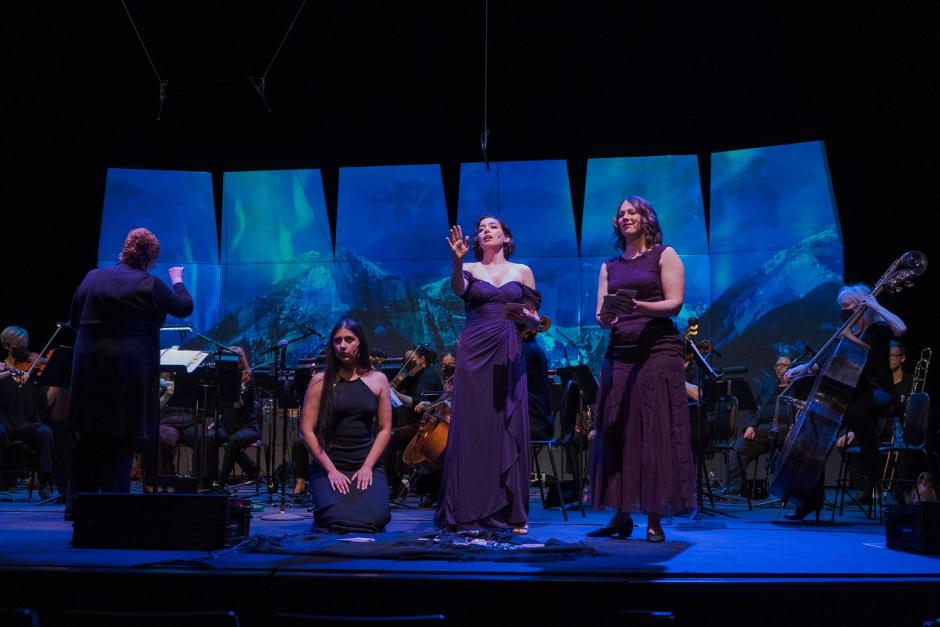 Overview
Opera in the 21st Century: Don Giovanni focuses on the development of early career opera professionals, providing the skills and experience to take them to the next level of their careers in an evolving industry. Led by Artistic Director Joel Ivany, the stellar faculty is comprised of internationally recognized professionals from a variety of backgrounds and disciplines
Banff Centre's 2023 Opera in the 21st Century: Don Giovanni is a 2 module multi-disciplinary program taking place at the National Arts Centre in Ottawa for Module 1 from June 5-17, 2023 and culminating in an additional 3 weeks of programming at Banff Centre for Arts and Creativity for Module 2, July 3-22, 2023.
This program offers a unique opportunity for 8 singers, a director, and repetiteur to attend both modules to work with and learn from artists specializing in a range of areas including design, creation, composition, and production. 
What does the program offer?
An intensive residency devoted to practical skill extension and development for emerging professionals. The program offers classes in voice, resumé writing, website and social media management, alongside the chance to perform in community concerts, staged opera, and workshop new music.
In 2023, 7 singers, 1 stage director, and 1 repetiteur will join a cast of career principal artists in Ottawa and prepare the roles needed for Mozart's Don Giovanni with the National Arts Centre Orchestra. They will then remount the semi-staged production at the Banff Centre later that summer. Singers will act as mentored covers and should the need be to perform the role, you will be engaged under an Equity contract. You will also workshop and present a musical read-through of a new opera Adoration as part of the ensemble. Adoration is written by composer Mary Kouyoumdjian and Canadian librettist Royce Vavrek in collaboration with Beth Morrison Projects based on the film by Canadian Atom Egoyan.
Module 1: June 5 - 17, 2023 at the National Arts Centre in Ottawa, Ontario
Arrive June 4 and Depart June 18, 2023. A travel allowance will be provided to assist with travel expenses to Ottawa (subject to regional maximums)
Preparation of the principal roles in Mozart's Don Giovanni.
Sessions with the Music Director of the NAC Orchestra, the stage director of the opera, Joel Ivany, and daily discussions and reflections as a cohort. 
One-on-one coaching with a repetiteur.
Round-table session with principal artists performing in the opera.
Attendance at all rehearsals, dress rehearsals, and performances.
Professional networking opportunities.
 
Module 2: July 3 - 22, 2023 at Banff Centre for Arts and Creativity 
Arrive July 2 and Depart July 23, 2023.
Daily coaching and voice lessons.
Masterclasses. 
A public performance of Don Giovanni. 
Public community concerts.
Prepare musical read-through of Mary Kouyoumdjian and Royce Vavrek's Adoration with one public showcase.
Sessions on producing opera, website/resumés/social media.
Opportunity for participants to sing original music by librettist/composer participants.
Module 2 of the 2023 Summer Opera Program will bring 3 additional singers as well as a librettist/composer pair to Banff Centre to work with Mary Kouyoumdjian and Royce Vavrek on their new opera Adoration. 
Who should apply?
We invite applications from post-secondary students and emerging artists already at an advanced level of accomplishment and with a well-documented record of artistic exploration to apply.
We are seeking applications interested in the following roles:
Note: Applicants interested in Don Giovanni roles must be available for both modules.
Mentored Stage Director (1)
Mentored Repetiteur (1)
Singers - Don Giovanni 
Don Giovanni; Baritone or Bass-Baritone
Leporello; Bass-Baritone
Donna Anna; Soprano
Donna Elvira; Soprano or High Mezzo
Don Ottavio; Tenor
Zerlina; Soprano or Mezzo
Masetto; Bass-Baritone
Commendatore; Bass
Singers - Adoration
Morris; Bass-Baritone
Tom; Baritone
Note: All singers cast in Don Giovanni will be required to participate in Adoration in Module 2 (whether named role or in the ensemble).
Opera in the 21st Century will offer a Banff only module for singers and a librettist/composer pair:
The Opera in the 21st Century 2023 programs will accept at least one artist from British Columbia in recognition of the David Spencer Endowment Encouragement Fund. 
Banff Centre invites applications from anywhere in the world, and artists of all ages (18+), backgrounds, gender identities, and expressions.
For full details on vaccination requirements, masking, safety protocols, and COVID related policies please visit: www.banffcentre.ca/covid-19-measures   
This program is generously supported by the David Spencer Endowment Encouragement Fund.
Itinerary
Module 1: 
National Arts Centre - Ottawa
(Don Giovanni singing roles, stage director, repetiteur)
Arrival:  June 4
Ottawa programming begins:  June 5
Dress Rehearsal: June 14
Performance #1: June 15
Performance #2:  June 17
Departure:  June 18
Module 2: 
Banff Centre for Arts and Creativity - Banff
(Don Giovanni and Adoration singing roles, stage director, repetiteur, librettist/composer pair)
Arrival: July 2
Banff programming begins: July 3
Opera Pub at Royal Canadian Legion: July 7 & 14
Public Reading of Adoration: July 15
Performance of Don Giovanni: July 22
Departure: July 23
*All schedules are subject to change
What's Included
Ottawa
Kitchenette Room
Banff
Your program fee includes a single bedroom on the Banff Centre campus for the duration of your program.
Get connected with other artists on campus and focus on your projects in a creative environment while we take care of the day-to-day essentials.
Ottawa
$75 per day STIPEND
Banff
Using a credit-based system to dine on campus, our flexible meal plans allow you to select meals according to your own needs during your stay. Banff Centre can respond to most dietary requests. 
The Full Flex meal plan is equivalent to $61.95 credit per day, equivalent to breakfast, lunch and dinner at our Buffet service.
This program offers opportunities to showcase your work-in-progress.
Join in group seminars/workshops.
Create in one of our specialized studios.
A grant towards your travel costs to and from Ottawa provided by the National Arts Centre
Travel grants are not available for Module 2 (Banff)
The Paul D. Fleck Library and Archives - Current Services
The Library is delighted to support Banff Centre Participants, Artists, and Faculty with the following services:
Open hours:  9:30 am to 1 pm, Mondays, Wednesdays, and Fridays.
Access to collections, including program relevant books, scores, artists' books, recordings, periodicals, and object library.
Library accounts for borrowing materials.
Digital Library, on campus and remote access.
Library research assistance, by appointment.
Archives research, by appointment only.
Please email library@banffcentre.ca or archives@banffcentre.ca for more information or assistance.
During your stay in Banff enrich your experience and get to know other artists on campus by taking advantage of the activities and support provided by our Participant Resources team.
During your stay in Banff enjoy special artist rates for ticketed performances or complimentary access to events.
Fees & Financial Assistance
Application fee: $65 ($35 for applicants who identify as Indigenous).
Module 1: Financial Aid of 100% is available to cover Program Fee, including accommodation. A stipend of $75 per day will be issued to help cover food costs while in Ottawa. A travel allowance will be provided to assist with travel expenses to Ottawa (subject to regional maximums).
Module 2: Financial Aid of 100% is available to cover the full Program Fee, including single accommodation and full flex meal plan. *Note, participants are required to arrange travel to Banff at their own expense.
Application fees are not refundable.  
Banff Centre will issue official tax receipts for eligible tuition fees and financial assistance and awards as required by the Income Tax Act. You will receive a T2202 (Tuition and Enrolment Certificate) for eligible tuition fees paid and a T4A (Statement of Pension, Retirement, Annuity, and Other Income) for applicable financial assistance and awards.
Help fund your experience at Banff Centre! View a compiled list of external national and international opportunities here. 
How to Apply
Adjudication
Adjudication is based on artistic merit, the potential impact of the program on artists' practice and careers, project feasibility and the capacity of Banff Centre to help realize the project, and the project's fit with Banff Centre's values and strategic directions as described in its strategic plan. Banff Centre respects the need for artists to plan ahead for their visit; applicants will be notified as soon as adjudication is complete.
Please note that all application fees are non-refundable and support the review of each program application and the audition process. Due to the high volume of applications, we do not provide feedback on applications and cannot guarantee acceptance to the program. 
International Applicants
Banff Centre welcomes domestic and international applicants for this program. Please note, Banff Centre programs do not meet Canadian Student Visa eligibility requirements, you must obtain a Visitor Visa to enter Canada. Accepted individuals are responsible for identifying and complying with the immigration requirements to enter Canada as a visitor from their country of origin. Current wait times to receive a visa are much longer than normal, so applicants who require a Visitor Visa should check the current expected processing times prior to applying.
Eligibility
Applicants must be ages 18+ at the time of the program start date.