September 3 | Virtual String Quartet Festival
Virtual Festival Day 3
4 pm | Talk: A Changing Landscape - Watch Now! 
6 pm | Concert: PUBLIQuartet - Watch Now!
Talk: A Changing Landscape: Classical Music Marketplace During the COVID-19 Crisis
Barry Shiffman will lead a panel discussion with Tricia Baldwin (Isabel Bader Centre), James Ehnes (Concerts From Home & Seattle Chamber Music Society), and Jenny Bilfield (Washington Performing Arts)  talking about the move to online programming for Chamber Music Festivals. 
Learn more about the guest speakers below. 
Concert: PUBLIQuartet 
From Brooklyn, New York
The link to view will be available day of the performance. 
Learn more about the PUBLIQuartet below. 
Program:
"Get into the Now" (2017) Jessica Meyer
i. The Pull
ii. Years of in Me
iii. Go BIG or go HOME
String Quartet No.1, Movement 2 (used as the basis for Lyric for Strings) (1947) George Walker
 
MIND | THE | GAP: "What is American?" improvisations on the beloved Antonín Dvořák "American" Quartet (2016) 
i. Allegro ma non troppo
ii. Lento
iii. Molto vivace
iv. Finale: vivace ma non troppo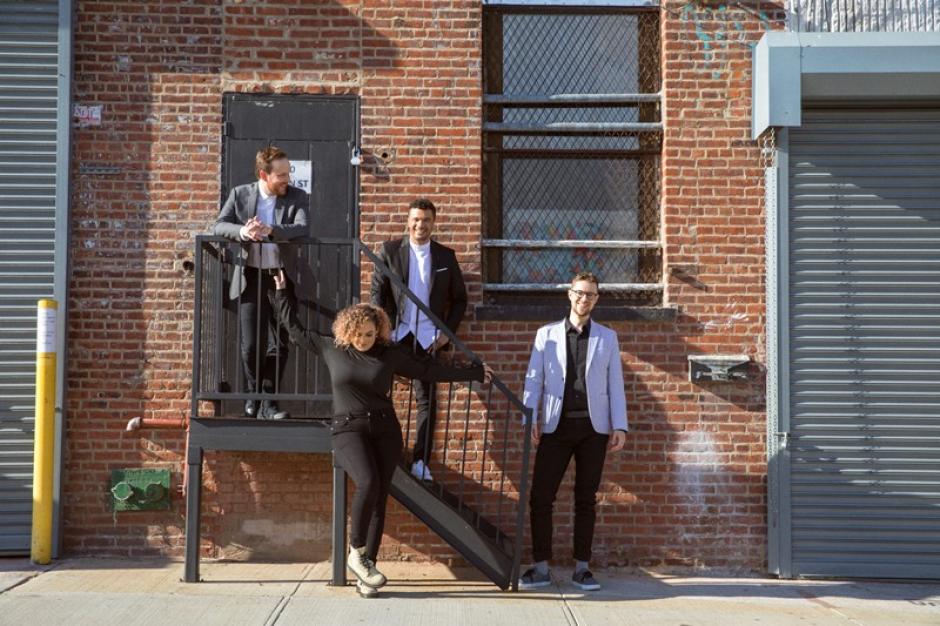 PUBLIQuartet Biography
Curtis Stewart and Jannina Norpoth, violins
Nick Revel, viola
Hamilton Berry, cello
Applauded by The Washington Post as "a perfect encapsulation of today's trends in chamber music," and by The New Yorker as "independent-minded," PUBLIQuartet's modern interpretation of chamber music makes them one of the most dynamic artists of their generation.  Dedicated to presenting new works for string quartet, PUBLIQuartet rose on the music scene as winner of the 2013 Concert Artists Guild's New Music/New Places award, and in 2019 garnered Chamber Music America's prestigious Visionary Award for outstanding and innovative approaches to contemporary classical, jazz, and world chamber music.  PQ's genre-bending programs range from 20th century masterworks to newly commissioned pieces, alongside re-imaginations of classical works featuring open-form improvisations that expand the techniques and aesthetic of the traditional string quartet.
PUBLIQuartet has served as artist-in-residence at top institutions including the Metropolitan Museum of Art and National Sawdust and has appeared at a wide variety of venues and festivals, from Carnegie Hall and the Newport Jazz Festival to The Late Show with Stephen Colbert. Their latest album, Freedom and Faith, debuted atop the Billboard Classical Charts in May 2019. The 2019-2020 season brings a diverse array of programs to venues across the United States, including a special collaborative project with jazz violinist Diane Monroe.
PUBLIQuartet's commitment to supporting emerging composers inspired their innovative program, PUBLIQ Access, which promotes emerging composers and presents a wide variety of under-represented music for string quartet--from classical, jazz and electronic, to non-notated, world and improvised music. Other unique projects include MIND|THE|GAP, a series of group-composed works developed by PQ to generate interest in new music while also engaging traditional classical music audiences.  These unique creations range from "Bird in Paris" (Claude Debussy meets Charlie Parker) to more recent extended works including "What Is American?" (an exploration of Dvorak's beloved "American" String Quartet) and Sancta Femina (based on themes by three medieval and baroque female composers). 
Founded in 2010, PUBLIQuartet is currently based in New York City.
Tricia Baldwin Biography
Tricia Baldwin is the Director of the Isabel Bader Centre for the Performing Arts at Queen's University where she and her talented team have established the Isabel as a noted arts presenter of local, national, and international talent, an arts incubator for new works, and the co-founder of the Ka'tarohkwi Festival of Indigenous Arts with curator Dylan Robinson and the Isabel Human Rights Arts Festival where social justice and the arts interconnect. As a champion of the next generation, she initiated with national violin and cello competitions as well as the YGK Emerging Musician Competition with Claire Bouvier and Aaron Holmberg, and is the co-creator of the Master in Arts Leadership program with the DAN School to develop the next generation of arts leaders and is an instructor within this graduate program.
During the COVID-19 isolation period, Tricia and her team converted the Isabel's Bader and Overton Canadian Cello Competition to an online competition in collaboration with CBC and have created the community-initiated Ballytobin LIVE FROM THE ISABEL online summer music festival and the Isabel Digital Concert Hall. Tricia serves on the Mayor's Kingston Economic Recovery Team as the cultural industry representative.
Prior to the Isabel, Tricia Baldwin was the Managing Director of Tafelmusik from 2000 to 2014.  During this period, Tafelmusik doubled its operating revenues and increased its endowment seventeen fold. The orchestra undertook over 50 national and international tours, created 20 recordings and films that garnered significant industry awards and nominations that led to the launching of its recording label and digital concert hall, established artist training programs attracting pre-professional musicians from around the world, and undertook a successful $3.2M venue renovation. Tricia also headed up Tafelmusik's expansion of venues within Toronto that contributed to the doubling of earned revenues and significant audience development. 
Throughout her career, Tricia has established a strong track record of visionary leadership and tremendous resource growth to bring vision to fruition for the benefit of many. She received her Bachelor of Music at U. of T. and her M.B.A. at the Schulich School of Business, York University where she serves on the Arts and Media Advisory Board. Tricia Baldwin has been awarded the Canada Council for the Arts' John Hobday Award in Arts Management,  and the Queen's Human Rights Initiatives Award.
 
Jenny Bilfield Biography
Jenny Bilfield, President/CEO of Washington Performing Arts has positioned WPA as an important incubator of mainstage, community, and education programming. Her vision is transforming WPA's creative profile and business model, emphasizing unique programs and collaborations such as SHIFT: A Festival of American Orchestras with the Kennedy Center and Mars Arts D.C. spotlighting D.C. artists and culture. Prior to WPA, Bilfield's tenure as Artistic Director of Stanford Live included over 25 commissions and the planning/launch of Stanford's Bing Concert Hall. As President of music publisher Boosey & Hawkes, she led transformative, international initiatives that grew revenue and profile for the composers and company. Bilfield holds a BA in Music from the Univ. of Pennsylvania and has received awards from ASCAP and the League of American Orchestras. She has been named one the 30 Key Influencers in the Arts: Movers and Shakers by Musical America and is an Honorary Commander of the US Air Force Band.
James Ehnes Biography
Violin, Viola 
Artistic Director, Seattle Chamber Music Society 
Artist in Residence, Dallas Symphony Orchestra (2019/20)
James Ehnes has established himself as one of the most sought-after violinists on the international stage. Gifted with a rare combination of stunning virtuosity, serene lyricism and an unfaltering musicality, Ehnes is a favourite guest of many of the world's most respected conductors including Vladimir Ashkenazy, Marin Alsop, Andrew Davis, Stéphane Denève, Mark Elder, Iván Fischer, Edward Gardner, Paavo Järvi, Juanjo Mena, Gianandrea Noseda, David Robertson and Donald Runnicles. Ehnes's long list of orchestras he has worked with include the Boston, Chicago, London, NHK and Vienna symphony orchestras, the Los Angeles, New York, Munich and Czech philharmonic orchestras, and the Cleveland, Philadelphia, Philharmonia and DSO Berlin orchestras. 
Recent orchestral highlights include the MET Orchestra at Carnegie Hall with Gianandrea Noseda, Gewandhausorchester Leipzig with Alexander Shelley, San Francisco Symphony with Marek Janowski, Frankfurt Radio Symphony with Andrés Orozco-Estrada, London Symphony with Daniel Harding, and Munich Philharmonic with Jaap van Zweden, as well as his debut with the London Philharmonic Orchestra at the Lincoln Center in spring 2019. In 2019/20, Ehnes is Artist in Residence with the Dallas Symphony Orchestra, which includes performances of the Elgar Concerto with Fabio Luisi, a play/direct programme led by Ehnes, and a chamber music programme. In 2017, Ehnes premiered the Aaron-Jay Kernis Violin Concerto with the Toronto, Seattle and Dallas symphony orchestras, and gave further performances of the piece with the Deutsches Symphonie-Orchester and Melbourne Symphony Orchestra. 
Alongside his concerto work, Ehnes maintains a busy recital schedule. He performs regularly at the Wigmore Hall, Carnegie Hall, Symphony Center Chicago, Amsterdam Concertgebouw, Ravinia, Montreux, Chaise-Dieu, the White Nights Festival in St Petersburg, Verbier Festival, Festival de Pâques in Aix, and in 2018 he undertook a recital tour to the Far East, including performances in Hong Kong, Shanghai, Singapore and Kuala Lumpur. 
As part of the Beethoven celebrations, Ehnes has been invited to perform the complete cycle of Beethoven Sonatas at the Wigmore Hall throughout 2019/20. Elsewhere Ehnes performs the Beethoven Sonatas at Dresden Music Festival, Prague Spring Festival, the Concertgebouw Amsterdam, at Aspen Music Festival (as part of a multi-year residency) and at Bravo Vail Festival during his residency week also including the Violin Concerto and Triple Concerto with the Dallas Symphony Orchestra and Runnicles. In 2016, Ehnes undertook a cross-Canada recital tour, performing in each of the country's provinces and territories, to celebrate his 40th birthday. 
As a chamber musician, he has collaborated with leading artists such as Leif Ove Andsnes, Renaud Capuçon, Louis Lortie, Nikolai Lugansky, Yo-Yo Ma, Antoine Tamestit, Jan Vogler and Yuja Wang. In 2010, he formally established the Ehnes Quartet, with whom he has performed in Europe at venues including the Wigmore Hall, Auditorium du Louvre in Paris and Théâtre du Jeu de Paume in Aix, amongst others. Ehnes is the Artistic Director of the Seattle Chamber Music Society. Ehnes has an extensive discography and has won many awards for his recordings, including a Grammy Award (2019) for his live recording of Aaron Jay Kernis Violin Concerto with the Seattle Symphony and Ludovic Morlot, and a Gramophone Award for his live recording of the Elgar Concerto with the Philharmonia Orchestra and Andrew Davis. His recording of the Korngold, Barber and Walton violin concertos won a Grammy Award for 'Best Instrumental Soloist Performance' and a JUNO award for 'Best Classical Album of the Year'. His recording of the Paganini Caprices earned him universal praise, with Diapason writing of the disc, "Ehnes confirms the predictions of Erick Friedman, eminent student of Heifetz: 'there is only one like him born every hundred years'." Recent releases include sonatas by Beethoven, Debussy, Elgar and Respighi, and concertos by Walton, Britten, Shostakovich, Prokofiev and Strauss, as well as the Beethoven Violin Concerto with the Royal Liverpool Philharmonic Orchestra and Andrew Manze, which was released in October 2017 on Onyx Classics. 
Ehnes began violin studies at the age of five, became a protégé of the noted Canadian violinist Francis Chaplin aged nine, and made his orchestra debut with L'Orchestre symphonique de Montréal aged 13. He continued his studies with Sally Thomas at the Meadowmount School of Music and The Juilliard School, winning the Peter Mennin Prize for Outstanding Achievement and Leadership in Music upon his graduation in 1997. He is a Fellow of the Royal Society of Canada and in 2010 was appointed a Member of the Order of Canada. Ehnes was awarded the 2017 Royal Philharmonic Society Award in the Instrumentalist category. Ehnes plays the "Marsick" Stradivarius of 1715. 
Intermusica represents James Ehnes worldwide.
Barry Shiffman Biography
Barry Shiffman enjoys a diverse career as a musician, educator, and administrator. He was co-founder of the St. Lawrence String Quartet (SLSQ) and currently serves as both the Associate Dean and Director of Chamber Music at Glenn Gould School, and Director of the Phil and Eli Taylor Performance Academy for Young Artists at the Royal Conservatory of Music in Toronto. 
During his 17 years with the SLSQ he appeared in over 2,000 concerts in venues around the globe, and recorded several critically acclaimed discs under an exclusive contract with EMI Classics. While with SLSQ, Shiffman served as artistin-residence at Stanford University from 1998 to 2006 and as visiting artist at the University of Toronto from 1995 to 2006. 
Shiffman has also served in numerous roles at Banff Centre, including Director of Music Programs (2006-2010), Artistic Director of Summer Classical Music Programs (2010-2016), and Director of the Banff International String Quartet Competition since 2006. During his tenure at Banff Centre he introduced new programming in classical music performance, composition, popular music, and jazz and oversaw the dramatic growth of the Banff International String Quartet Competition, including the successful launch of the Banff Centre International String Quartet Festival in 2017.
In 2018, Shiffman was appointed Artistic Director of Rockport Music in Massachusetts, overseeing all classical programming for the organization including a five-week summer chamber music festival at the venerable Shalin Liu Performance Center. From 2009-2017, he was Executive Artistic Director of Music in the Morning Concert Society in Vancouver. A sought-after juror, he has served on the violin jury of the Tchaikovsky and Montreal Violin Competitions, and the String Quartet Competitions of London Wigmore Hall, Lyon, and Geneva.
Shiffman received his formal studies at the Royal Conservatory in Toronto, University of Toronto, Utrecht Conservatory, Hartt School of Music, Juilliard School, and Yale University. Summer studies included Banff Centre, Tanglewood, and Aspen. He is also  the recipient of the Longy School's Nadia Boulanger Prize for Excellence in the Art of Teaching, and an Honorary Doctorate from the University of Calgary.
 
Panel Discussion: Online Chamber Music Festivals
Supporters
Lead Supporter
Sir Jack Lyons Charitable Trust 
Supporters
Jack Chetner
Maureen and Joe Katchen 
MacLachlan Ridge Family