Applications are now open for Spring/Summer 2024 programs. For Fall 2024 progams onwards you can sign up to the Newsletter to receive an alert when applications open.
The Application and Payment systems will be closed from the 20th December to 3rd January as part of the Institutional Holiday Closure. SlideRoom will remain open for portfolio submissions.
Questions please contact the Admissions Office or call 403 762 6180.
Intermediate Project Management for Indigenous Organizations - Fall 2024
Indigenous Leadership | In Person
Program Information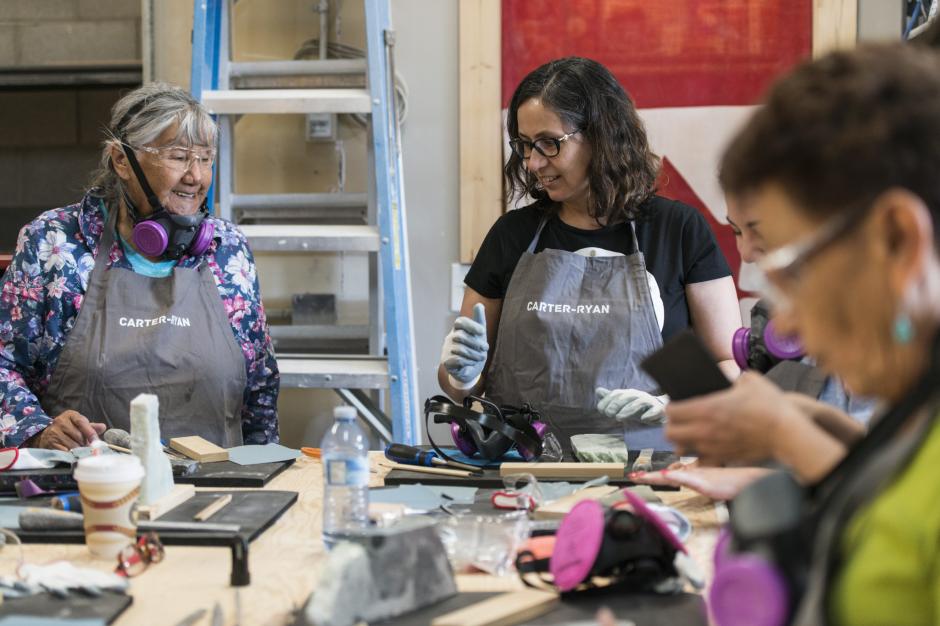 Wise Practice Element 6: Performance Evaluation
Overview
Project management is a results-oriented process designed to support organizations, institutions, and communities. Understanding, proposing, and establishing a professional project management environment is a critical component to program and project funding and development. This program helps translate the language of project management into the systems of Indigenous wisdom.
Adopting standardized project management techniques and tools increases the capacity to ensure successful projects from ideation to implementation. Beyond the best-practices aspects of project management, you will develop your knowledge and skills in the context of Indigenous Wise Practices. Learn to effectively lead projects to deliver the expected outcomes, on scope, on time, and on budget. 
What does this program offer?
This program unpacks the theory and process of project management, by:
Exploring what project management is and why it is important
Project management fundamentals, processes, techniques, and tools
Defining Wise Practices and applying them to project management
Building the foundations to revitalize Wise Practices in your communities
Understanding the life cycle of a project and the work required in each phase
Project management planning techniques through a practical business case exercise 
Change management and performance management
Who should register?
This program is an ideal fit for those who are:
Responsible for developing, leading, and managing projects in, or with, Indigenous communities and organizations
Seeking to understand and introduce project management practices into their organization or community
From Indigenous communities, government, industry, not-for-profits, and boards
 
Earn your Certificate
The Certificate of Indigenous Leadership, Governance, and Management Excellence is awarded to individuals who recognize the importance of continuing education and have successfully completed a total of seven programs. The programs are strategically focused on building your capacity to assist your community and organization to successfully move forward into the era of self-determination and successful community economic development. All Intermediate offerings are counted towards the certificate, while Introductory programs do not. Learn more about what courses you require in order to achieve your certificate, here.
This program fullfils Wise Practice Element 6: Performance Evaluation.
This program prioritizes Indigenous learners, and those working for Indigenous communities and organizations. Programs are filled on a first come, first served basis. Please register early to secure a confirmation of your spot.
Itinerary
To maximize learning for this program, students are required to dedicate approximately 40 hours during the week to this program.
Complete pre-program assignments if applicable (approx. 2 hours)
Participate in daily sessions, Sunday through Friday, according to the agenda.
Complete homework outside of class time if applicable (approx. 2 hours)
In person Indigenous Leadership Program Schedule
Starting Sunday, 5:30 pm with Dinner
Monday to Thursday whole day include Breakfast, Lunch, and Dinner
Finishing Friday, 1:30 pm after Lunch
*Schedule is subject to change, more details coming soon.
What's Included
Your program fee includes a single bedroom on the Banff Centre campus for the duration of your program.
Get connected with other artists on campus and focus on your projects in a creative environment while we take care of the day-to-day essentials.
Using a credit-based system to dine on campus, our flexible meal plans allow you to select meals according to your own needs during your stay. Banff Centre can accommodate most dietary requests. 
The Full Flex meal plan is calculated at $70 credit per day, equivalent to breakfast, lunch and dinner at our Buffet service.
Enjoy free parking, wifi, and access to the Walter Phillips Gallery while you are a guest at Banff Centre. Our Participant Resources team is also available to assist you with medical support or event information. See our Events Calendar to learn more about what's going on at Banff Centre while you're onsite.
The Paul D. Fleck Library and Archives - Current Services
The Library is delighted to support Banff Centre Participants, Artists, and Faculty with the following services:
Open hours:  9:30 am to 1 pm, Mondays, Wednesdays, and Fridays.
Access to collections, including program relevant books, scores, artists' books, recordings, periodicals, and object library.
Library accounts for borrowing materials.
Digital Library, on campus and remote access.
Library research assistance, by appointment.
Archives research, by appointment only.
Please email library@banffcentre.ca or archives@banffcentre.ca for more information or assistance.
The Sally Borden Fitness and Recreation Centre is located in the lower floor of the Sally Borden Building, and provides all guests with access to our swimming pool, hot tub, steam room, climbing gym, fitness centre, spin studio, and gymnasium. Massage and physiotherapy appointments may also be booked ahead of time.
Join in group seminars/workshops.
Learning Journals for course materials.
Fees & Financial Assistance
 (Include Application/Registration Fee of $35.00)
Up to a maximum of 30 participants per program.
Financial assistance is available for Indigenous peoples or non-Indigenous peoples working for Indigenous organizations only.
To be considered for financial assistance, please ensure that you select "Yes" to 'I would like to apply for financial assistance' during registration, and log into your Student Portal to complete your funding application form within 48 hours of submitting your initial registration.  We strongly recommend timely submission of the funding form, to be considered. Note that we reserve the right to cancel registrants who select 'No' to financial assistance if payment and confirmation of attendance is not received within 7 days of registration. 
Banff Centre will issue official tax receipts for eligible tuition fees and all financial assistance and awards as required by the Income Tax Act. You will receive a T2202 (Tuition and Enrolment Certificate) for eligible tuition fees paid and a T4A (Statement of Pension, Retirement, Annuity, and Other Income) for applicable financial assistance and awards.
How to Apply
If you have requested financial assistance,please ensure that you log in to your Student Portal within 48 hours of registration, to submit your funding request form.
If you do not require financial assistance, please ensure that you log in to your Student Portal and complete confirmation of attendance and full payment as soon as possible, but no later than 7 days from completing step 1.
Note that non-completion within the timelines stated may result in your place being offered to the waitlist.
All programs, faculty, dates, fees, and offers of financial assistance are subject to change. Program fee is subject to applicable taxes. Banff Centre reserves the right to cancel a program up to seven days prior to program start date if there is insufficient enrolment, and in this case all fees will be refunded. Please note that Banff Centre is not liable for any personal/travel expenses incurred. Non-refundable fees and deposits will be retained upon cancellation. Any other fees are refunded at the discretion of the Banff Centre. The application deadline is 11:59 p.m. Mountain Standard Time.
Contact us

For more information please contact: